Track Shack Running Series Athletes Thriving in a Unique Season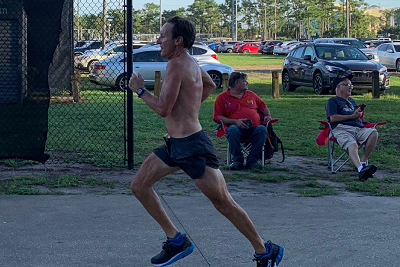 Typically known as a six race, eight-month long series, the 2020-21 Track Shack Running Series became a three-event series due to COVID-19.
Tom Ward, competitive runner and Track Shack's Vice President of Operations interviewed three outstanding runners who've dominated during this unexpectedly shortened season!
Senior grand master athletes Jim and Kitty Musante and 10-year-old Annabella Tomasic, are on opposite ends of the competitive spectrum, share with us how they came to love and excel at running.
These interesting profiles are being shared over three blogs.
Jim Musante, 63, New Smyrna, FL
Lifetime PRs
• 5K-15:41
• Half Marathon-1:10:51
• Marathon- 2:30:32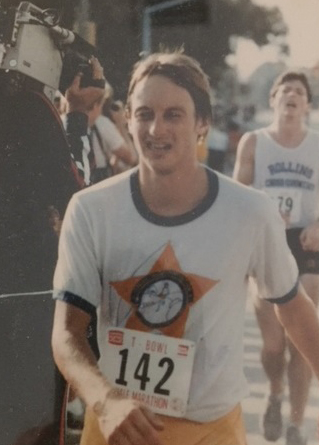 TOM - You have had amazing longevity and accomplishments in a sport that has a history of "wearing down" athletes. To what do you attribute the long running (excuse the pun) success you have had?
JIM - I picked my parents well. My brothers and sister (& spouses) are all very healthy and active, me being the youngest, I just followed what they were all doing. That plus orange juice each and every day growing up. Dad being a Florida citrus grower enabled us to have freshly squeezed orange juice every morning. I still love the smell of freshly squeezed O.J. in the air. I also, whether knowing it or not have spent countless hours on the bike and on the water swimming or in a kayak/canoe. I think it's called "cross training" these days but back then it was just "outdoor activity".
TOM - How is your training the same or different from your early days of competing?
JIM - Just to keep pace with everyone around me I trained much harder back in the day. I started running to help keep up my stamina on the golf course in the mid 70's. I was rarely top 3 in my age group, so I was just trying to stay in touch with them. Getting out of college in the late 70's I didn't have much (if any) disposable income, so I got in the habit of running or biking just about anywhere I went within a 20-25 mile radius of my house. That lifestyle choice has followed me up to today. If my car goes in the shop I run or bike back, if I have mail to go out, I bike or run with it, banking, visiting, etc.
TOM - What motivates you to push yourself in training and the races?
JIM - Motivation has NEVER been an issue with me. Because of my chosen career choice of working in restaurants, I have always enjoyed quiet time. I can be alone and be completely 100% happy. Running was a de-stresser. I LOVE competition and will compete in just about any sport. To stand at a starting line knowing how hard you have trained and how ready you are for that last painful mile, is a highly rewarding feeling of being able to beat your opponent. Triathlons, Speed golf, 24-hour bike races have all been happy diversions for the sake of staying in shape for running.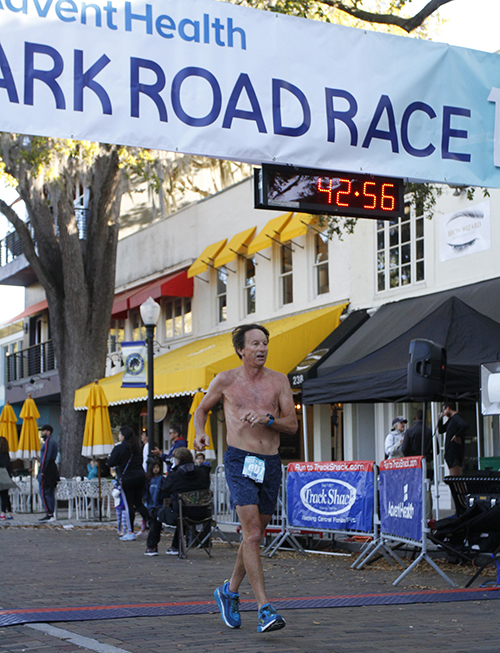 TOM - Briefly explain what "age graded performance" means.
JIM - I will defer this one to Kitty. All I will say is that after each and every race she brings up this chart that shows us being much faster than I think we are. I'm pretty sure it is more of an old person's motivational tool than for a young person. To me I equate it as one would use a handicap in golf. Everybody can compete against everybody on a (somewhat) even scale.
TOM - What is the one thing you would advise a talented young runner (like Annabella) to do, in order to have an enduring career like yours?
JIM - There are a number of tremendously talented younger runners right now and I get excited just watching their progress. I used to teach youth sports for the City of Winter Park 40 years ago and I could see it in their eyes and in their running. Not all of them, but a lot of them. It is refreshing to see those same looks on today's younger runners. Thru running you stay healthy. When you're healthy you can do things other people your age cannot do. When you do these athletic activities, it makes you feel good about yourself. You are in charge of your own destiny. A healthy body will keep you going in the right direction.
TOM - Do you have a favorite Track Shack Running Series race?
JIM - Winter Park Road Race 10K. Always has been, always will be. From living on the Winter Park Road Race course in 4 different houses for most of my first 40 years I have run the course COUNTLESS times. I have had many breakout runs on the course just from my knowledge of the course. Right out of college (80's), I lived in a rental house on Park Avenue. I would run the course up to 3 times after work (past midnight) just to unwind. Local Winter Park police would be parked here and there and give me a loudspeaker "keep it up", "slow down, speed limit is 25" or other nice comments back in the day. I know every foot of the course, every hill, every turn, every brick road and back in the day I think I knew most of the people. I feel that I could run it blindfolded backwards and still know where I am and how I should be feeling.
View standings current Track Shack Running Series Standings >>
Use Facebook to Leave a Comment
- We'd love to hear from you.