Customer of the Month- July
Tell us about your experiences! That's all it takes to be the Adidas Customer of the Month.
Each month we ask you a different question and if your answer is chosen you'll be highlighted in the monthly email and win a pair of shoes from Adidas!
July Topic:
Do you enjoy running as part of a group or by yourself? Post on the Track Shack Facebook page or on the blog. Deadline: June 20th.
June Topic and Winner:
This past month, you all shared quite a variety of songs that get your feet moving when you hit the pavement for a run. We received so many great responses, we will release a list of the submitted songs in the next couple of weeks. From country to heavy metal to pop and everything in-between, you run harder and faster and more focused when that favorites song is playing.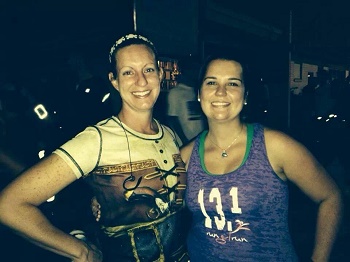 Heather Flores (pictured on right) picked a popular favorite, "Don't Stop Believing," as her favorite song because it has a great beat and the lyrics push her when she is close to the end of a race when that inner voice is telling her that she should just quit (we all know what that voice can sound like). She shared this photo because it's with her best friend, Melanie, who inspired her to become a runner.
Use Facebook to Leave a Comment
- We'd love to hear from you.