Strollers : Is There a Place for them in a road race?

By: Sarah Brown, New Mom, Track Shack Events Director of Marketing
I ran my first race as a mom. It was Run for the Trees 5k in Winter Park on April 26th. Before this I never gave much thought to strollers in road races. That's different now. I had my first child in October and it's been difficult to find time and motivation to run and do yoga. Heck, walking the dog has been challenging. I'm glad to say that Track Shack's policy on strollers changed in 2013 to allow them in 5ks only (thanks to changes in the insurance policy). There are two rules: 1. Strollers must maintain a 12 min mile or slower and 2. Always start at the back. As a staff member at Track Shack and new member of the mom club, here's how the event was for me pushing little Thurston Brown: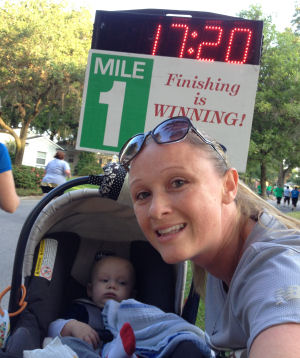 The start line -
Wow, just getting to the start line of the event was exhausting. Before 6:30 am I got myself ready and changed the baby's diapers, outfit and fed him. I'm happy to be here! Someone give me a pat on the back for this accomplishment! I see the big yellow sign that reads 'strollers start here'. Starting at the back makes sense and a 12 minute mile pace seems reasonable; a 36 min 5k should be no problem!

Mile 1 –
Really? 17 minutes for the first mile. That makes sense. Getting this big ol' jogging stroller through a sea of walkers is not easy. I see how people 'give flat tires' as we call it when you run over someone's heel with a buggy. It's not possible to bob and weave with a stroller! My expectations quickly changed. I'm here to finish. My time is not going to be 36 minutes!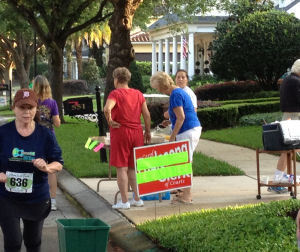 Mile 2 –
I'm improving... 32 minutes. For the non-mathletes, mile 2 took 15 minutes. That also included stopping at a garage sale, grabbing a mimosa at the stand made by one the residents and taking photos at the mile markers. I even facetimed my husband so that he could see the peacock that landed near me while on Genius Dr.

Mile 3 –
Appreciation ran through my mind. For my husband to encourage me to get out the door. For my friends at the race for greeting me with smiles and encouraging words. For the fellow parents pushing their babies. For all the people that smiled at my baby in the stroller. It all felt good, like a true community.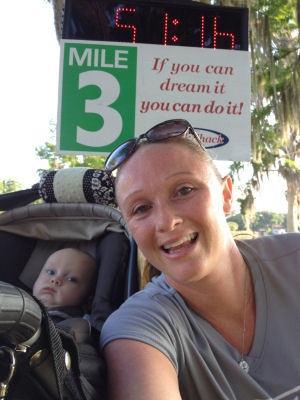 After the race, I felt rejuvenated. Exercising is so good for the soul. Doing a race, being with 1500 other people, made the experience so much better. I never felt tired. I was just happy in the moment.

Parents, I encourage you to sign up for a 5k, respect the 12 min pace, and give yourself this gift on a weekend.

Use Facebook to Leave a Comment
- We'd love to hear from you.