Team Spotlight: Orange County Government
Team Orange County Government flexes its collective muscle by showing up en masse dressed in orange shirts. Each year you can't help but notice the enthusiastic runners and walkers or be inspired by the firefighters running in full gear! Orange County Government's wellness program is robust, and employees get pumped to participate in the Corporate 5k!
Would you like to have that kind of enthusiasm for your company wellness program?! Jessica Puentes, Wellness Advisor and Orange County Government Team Captain shares some great tips below!

Shining the spotlight on companies who embrace a culture of workplace wellness is a priority for ThreatLocker, Team Spotlight Sponsor and Official Cybersecurity Sponsor of the SimplyIOA Corporate 5k presented by Key HR.
Q. Seeing Mayor Demings and other leadership run the 5k sets a strong example for Orange County Government employees to engage in your wellness programs. How do you recommend companies, large and small, get leadership support for employee wellness programs?
A.Yes – it truly does! Having Mayor Demings and our senior leadership support helps tremendously in our engagement. People view these individuals as role models and follow suit.
I would recommend any team large or small starting the conversation with their leadership and explaining the importance of being present at wellness events such as the SimplyIOA Corporate 5k.
Having their support and buy-in with all wellness endeavors creates a culture of wellness within our organization.
Q. How does Orange County Government workplace wellness culture reinforce the healthy living message year-round?
A. We have a robust Wellness program at Orange County Government where we stress year-round messaging encouraging lifestyle modification to create long lasting results. Currently we oversee programs that connect to our wellness incentive program. They focus on prevention and education. Programs touching on health management, mental health, events throughout the County, an onsite registered nurse to our health coaches.
Q. Can you provide one best practice for companies who would like to build their participation in the SimplyIOA Corporate 5k?
A. Communication is key! We have departments of vast roles, and it can be difficult to engage everyone; however, our HR communications team does an amazing job in engaging our members in multiple mediums.
About ThreatLocker, the Team Spotlight Sponsor

From our Maitland headquarters, our Cyber Heroes protect your business from ransomware with a suite of cloud-based zero trust tools. With ThreatLocker, you can easily manage the applications you trust and control data access for everything you don't.
To be featured in the click HERE to fill out the form >>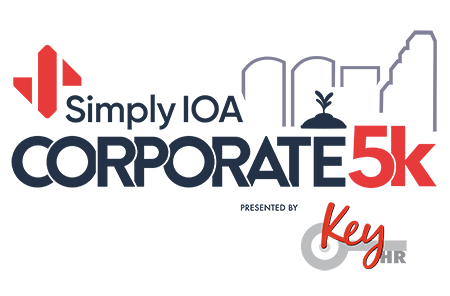 About SimplyIOA Corporate 5k presented by Key HR
Held exclusively for Florida's corporate community; businesses and non-profit organizations form teams and participate in the SimplyIOA Corporate 5k presented by Key HR for camaraderie, friendly competition and celebrating with co-workers.
Use Facebook to Leave a Comment
- We'd love to hear from you.