Ride SunRail Free to The Race on April 21st with Bib Number
Locating parking and bathrooms are common concerns for runners and walkers, but maybe not in that order!
We have solutions! Together with reThink Your Commute, a Corporate 5k transportation partner, we're here to help drive away the stress of traveling downtown and locating parking during rush hour.
Athletes in the SimplyIOA Corporate 5k presented by Key HR can ride SunRail free – and stress-free – to and from the race happening Thursday evening, April 21 by showing their bib number to the conductor. Step off the train and it's an easy 7-minute walk to Lake Eola. That's a perfect warm-up for anyone participating in Orlando's BEST Outdoor Office Party.
Start planning your race night travel today: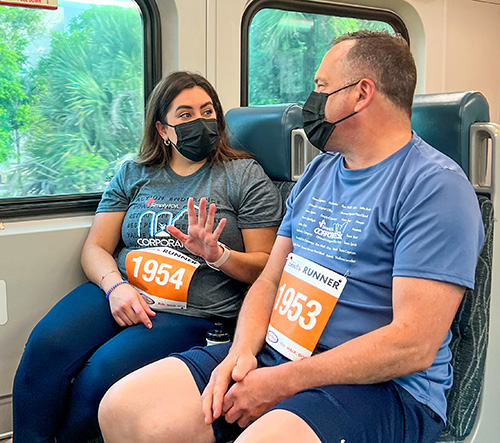 SunRail
• Locate the station close to you
• Use the special Race Day schedule to plan your travel
• Ride free to and from Church St. Station for the race by showing your bib number to the conductor
• After the race, catch the special northbound train departing Church St. Station at 9:00 p.m. or the southbound train departing Church St. Station at 9:06 pm.
Driving
• Share the ride with your coworkers and split the cost of parking!
• Not sure who to carpool with? Use the reThink Your Commute Trip Planner to connect with others.
• I-4 Express is there if you need it. Explore an interactive map to see where you can enter and exit I-4 Express at i4express.com
Riding
• LYNX provides public transportation services in downtown Orlando, including the fare free LYMMO. Learn more at golynx.com.
• Use Scooter Share and Bike Share options in downtown Orlando, including Lime, Bird, Wheels, Spin, and Razor. Rental fees vary.
Need a customized transportation plan?
reThink Your Commute can help! Contact the team at info@reThinkYourCommute.com to get started.
Now that you know how to get to the SimplyIOA Corporate 5k presented by Key HR, finding restrooms is easy! Look for 70 portable restrooms plus two sets of permanent facilities at Lake Eola.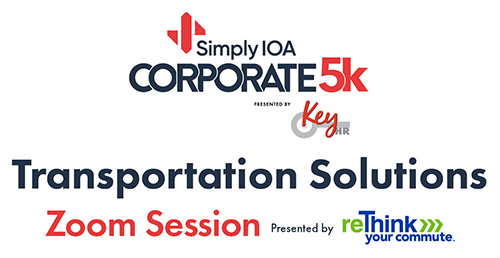 Join one of the Transportation Solutions Zoom Sessions
Thursday, April 14 from 1:00 pm – 1:30 pm
Monday, April 18 from 4:00 pm – 4:30 pm
Arrive to the 5k a new way!
Use Facebook to Leave a Comment
- We'd love to hear from you.