Team Spotlight: Andover Elementary
The First Team to Register for the 2021 SimplyIOA Corporate 5k
Did you ever wonder which was the first team to commit? Coveted honors of the being the first registered team of 2021 belong to OCPS-Andover Elementary School!
We captured the enthusiasm from Principal Kevin Duncan who is THE team captain at Andover Elementary, an Orange County public school with 755 students and 53 faculty and staff members.
Q. How long have you been participating in the Corporate 5k?
A. I've participated four times. I've organized a team at each school where I've worked.
Q. Being an educator is a demanding job, how are you able to engage your faculty and staff?
A. I found inspiration from an event my wife participated in where their motto was "the woman who starts the race is not the same who finishes the race." For me, it's about the experience of preparing for, and training for the race, that makes the effort worthwhile. I believe that's true for everyone.
We make it fun. We involve our Art teacher who designs our team's custom t-shirts and then our staff votes on the winning design to wear race night. After the event we go out and celebrate the accomplishment as a team. It's not about winning but participating together.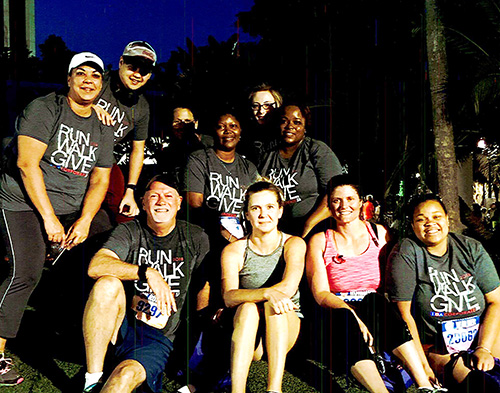 Q. You referenced having the largest Orange County Public School (OCPS) Team. Can you share any recruiting techniques?
A. When I was leading Arbor Ridge K-8, our school had the largest OCPS team with 33 members.
We see ourselves as a community resource and I really wanted to open participation to our school parents, our PTA and the SAC members who want to be part of what we have going on. Staying connected to our community is just one of the ways we make sure we are staying engaged and are taking care of the people in our area.
I'm grateful for the support of the Employee Wellness team at the Educational Learning Center who consistently support our efforts every year. Additionally, I'm a competitive guy and it's a personal goal to have our team have the most members out of all the OCPS Teams.
Q. Any advice you'd share with schools, organizations or companies who are on the fence about participating in Corporate 5k?
A. The Track Shack sponsored SimplyIOA Corporate 5K event is NOT to be missed. The area surrounding Lake Eola is beautiful, the support of the local community is inspiring, and it's a fantastic opportunity to have organizations demonstrate their focus on fitness. It's not just a run …it's an event! Your company will be the better for having your employees
and staff participate. The SimplyIOA Corporate 5K is a great "team building" event.
About SimplyIOA Corporate 5k
Held exclusively for Florida's corporate community; businesses and non-profit organizations form teams and participate in the SimplyIOA Corporate 5k for camaraderie, friendly competition and celebrating with co-workers.
Want to be featured?
Share how you and your company are preparing for the 2021 5k!
Are you interested in being featured for a Team Spotlight?
Email corporate5k@corporate5k.com.
Visit SimplyIOA Corporate 5k's webpage for more info or to create your team!
Use Facebook to Leave a Comment
- We'd love to hear from you.