Shoe Review: Brooks Aurora, Out-of-this-World Cushion
By Chris Hughes, Director of Retail Operations
Lightweight, low drop, high cushion, responsive, flexible, and high performance; these are all adjectives you've likely heard to describe a running shoe before but what if I told you that there is a single shoe that meets all these descriptions! If you have a neutral gait and that sounds like a shoe for you, you've got to check out the Brooks Aurora! At a 6mm drop and weighing 8.5oz for men and 7.6oz for women, the Aurora truly does check all the boxes.
It does so by using brand new technology from Brooks, a midsole composite called DNA LOFT V3. If you have run in shoes like the Glycerin in the past, then you are familiar with the ultra-plush DNA LOFT midsole but V3 takes it to another level!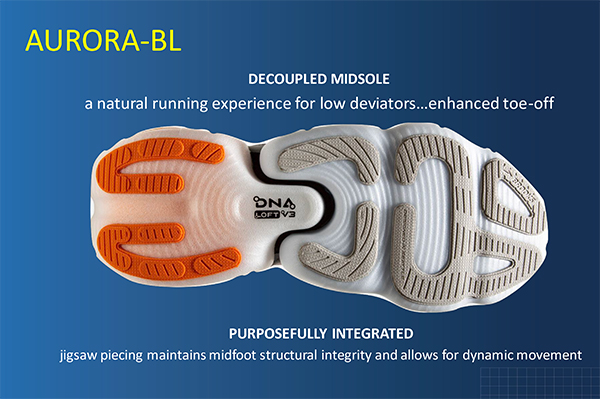 Brooks has infused their highest cushion substance with nitrogen to make it lighter and way more responsive than ever without losing the plush and protective aspects that you have come to know from the original DNA LOFT formulas. A decoupled midsole allows for maximum flexibility for a super smooth and natural ride and a seamless, feather-light upper makes it almost feel like you aren't wearing a shoe!
If this sounds good to you, come to Track Shack as soon as possible to try it because the craziest part of this shoe is it is a one-time release! The pairs we have now are the only ones we will get. Track Shack was chosen as one of a handful of stores to bring in the Aurora as a test launch of DNA LOFT V3 but with how great this shoe feels, expect to see many more using his technology in the future!

Track Shack is a specialty running/walking store that has been serving the footwear needs of Central Florida's fitness enthusiasts since 1977. Our experienced and knowledgeable staff takes each person through a custom fitting process. Shoes and feet are our business but people are our specialty! Now that you're here, walk through our user-friendly website and welcome to the Track Shack family!
Use Facebook to Leave a Comment
- We'd love to hear from you.