Track Shack and the Orlando Magic Run Together
Track Shack Events proudly announces an exciting collaboration with the Orlando Magic to create a running and walking experience that benefits the Orlando Magic Youth Foundation, which assists local at-risk youth. Runners, walkers, and Magic fans can participate in the Inaugural Orlando Magic 5k and Kids' Run presented by AdventHealth, virtually, on Saturday, April 10, 2021. Participating virtually means that athletes of all ages and abilities can experience the 5k or Kids' Run from anywhere at any time and receive a bib number, custom medal, and souvenir shirt.
Track Shack Events brings new race technology through its Track Shack Timing and Tracking app to provide the ultimate virtual sports fan experience. REAL-TIME REMOTE RACING™ uses one's phone GPS to track their race. With this technology, 5k participants race WITH OTHERS while receiving real-time data and personal stats. Establishing a virtual 5k is a step toward an annual in-person 5k surrounding the Orlando Magic regular season!
"The Magic are thrilled to join AdventHealth and Track Shack in making the Inaugural Orlando Magic 5k and Kids' Run a reality," said Magic Senior Vice President of Marketing and Social Responsibility Shelly Wilkes. "With health and wellness being one of our three community focus areas, we hope this virtual 5k will encourage others to join in the fun while staying active. The Magic have always believed in the power of exercise and the importance of healthy living, and we look forward to joining our partners AdventHealth and Track Shack in sharing that passion with the Central Florida community."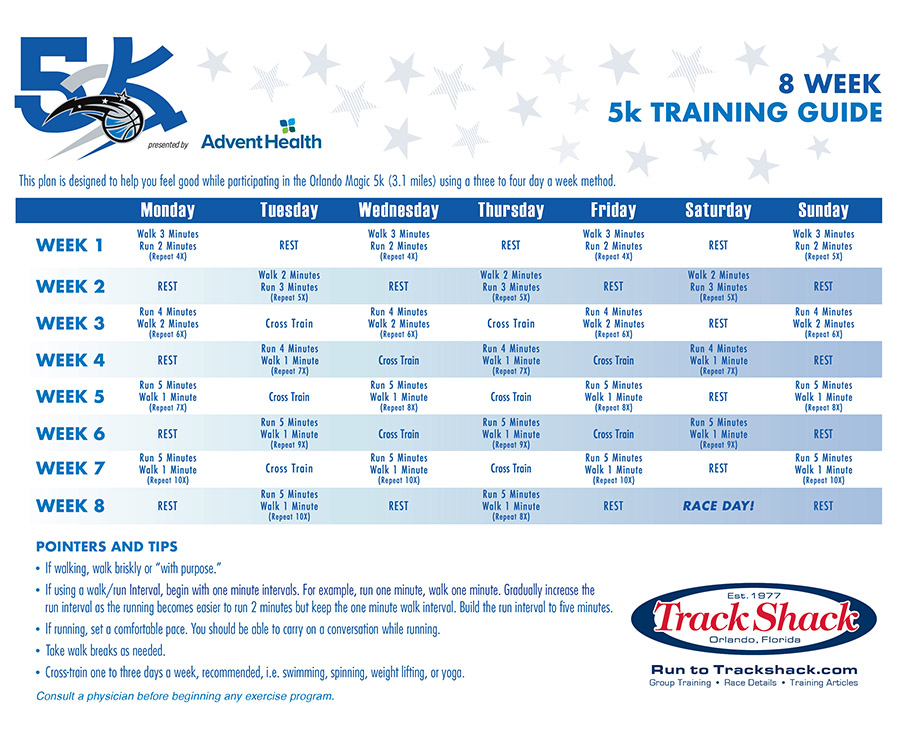 Fans will love the Magic swag and the opportunity to train using the 5k training guide. Follow social media for training tips and weekly training schedule. The 8-week training begins the week of February 15. Be one of the first to sign up for the Inaugural Orlando Magic 5k and Kids' Run presented by AdventHealth, register today!


Historical footnote –
Track Shack has been a part of the Central Florida Community since 1977…even longer than the Orlando Magic whose Inaugural Season was 1989.
Back in the day the Magic called on Track Shack Founder and President Jon Hughes, to devise a training program to help condition the team for that first season.
Assistant Coach John Gabriel, a local runner, reached out to Jon and Event Manager Tom Ward to create a plan to get them a fitness head start, as they prepped for their pre-season.
They met at Showalter Field in Winter Park twice a week to get some endurance training under their belt. This was voluntary for players who wanted to show up to camp in good physical condition. Some of the players that showed up for training and drills included Jeff Turner, Dave Corzine, and Sidney Green. It was a unique way for Track Shack to be involved with Orlando's first NBA expansion team!
Use Facebook to Leave a Comment
- We'd love to hear from you.