We'll Still Think Pink In October!
By Betsy Hughes, co-owner of Track Shack
Cancer is a nasty word in my book. Probably in yours as well as it affects so many of us, our family and our friends. The month of October has for many years represented breast cancer and has become a month to wear pink; pink bracelets, pink hair and this year, our sidewalks will even wear pink chalk as we Pink Out Central Florida.
Every October, Track Shack, has celebrated our local women by funding the AdventHealth Breast Cancer Care Fund during our annual Ladies Night. Many great sponsors come together and support our team by helping us wine and dine our contributors (you) who enjoy an auction, a fashion show, and a mini seminar from one of our favorite AdventHealth doctors. The music, the hum of chatter and clink of glasses makes our hearts smile with gratitude. Thank you for supporting Ladies Night for all these years.
With a heavy heart we've made the decision to wait until October 2021 to hold Ladies Night again. We all have experienced life during COVID-19 and after talking to several friends it was decided a virtual Ladies Night was not the same. But, ladies, please know that the need is as great as ever! Helping fund the Breast Cancer Care Fund has provided mammograms for hundreds of underserved women in Central Florida!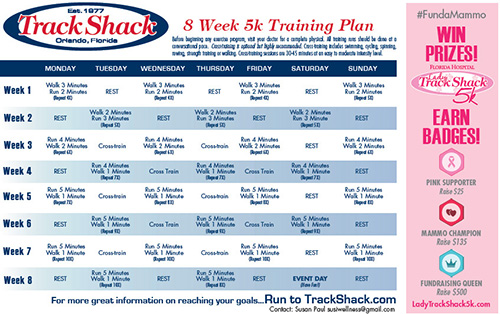 In just four short months we plan to come together to run/walk and celebrate life during the AdventHealth Lady Track Shack 5k for the 44th year! Registration is open. Perhaps this will be the year to make an additional donation to the Fund since we are missing Ladies Night. Or maybe it's easier to make a donation directly to the Breast Cancer Care Fund…Please consider helping us fund this worthwhile charity. And ladies, remember too that your own mammogram might be due. Schedule your mammogram. October is a month to kick cancer's butt in more than ways than one!
We are celebrating you no matter what. Come by Track Shack to see our sidewalks Pinked Out! Register early for the Lady Track Shack 5k and start training today! Call your sister, your mom or daughter and encourage them to participate on January 30, 2021!
A Week of Caring
Join us October 19 through 24 for A Week of Caring sponsored by Brooks. Come in to Track Shack for a proper bra fitting, receive a fun gift with purchase and know that 15% of all bra purchases will support the AdventHealth Breast Cancer Care Fund. Tune in daily to the @ladytrackshack_5k for special messages and tips from Betsy!

Use Facebook to Leave a Comment
- We'd love to hear from you.