450 Shoes Donated to AdventHealth Frontline Workers
Comfortable shoes and no-tie laces were provided free to healthcare workers serving on the frontline of COVID-19.
On Running, a Swiss running shoe company, and vendor to Track Shack of Orlando donated 450 pairs of running shoes to AdventHealth Foundation of Central Florida for distribution to local medical heroes.
"AdventHealth is a longtime healthcare partner of Track Shack. Their sports medicine professionals provide support and expertise for our running/walking events and training programs," said Betsy Hughes, co-owner of Track Shack. "We are thrilled they are the recipients of this generous gift."
"The On Running philosophy is to make sure its community of employees, family and customers are safe and healthy during the pandemic," said Gabe Albaladejo, On Running Florida Tech Rep. "In what ways could we help medical staff who are working so hard during the pandemic? A comfy pair of shoes brings relief and a smile to those who spend long, stressful hours on their feet."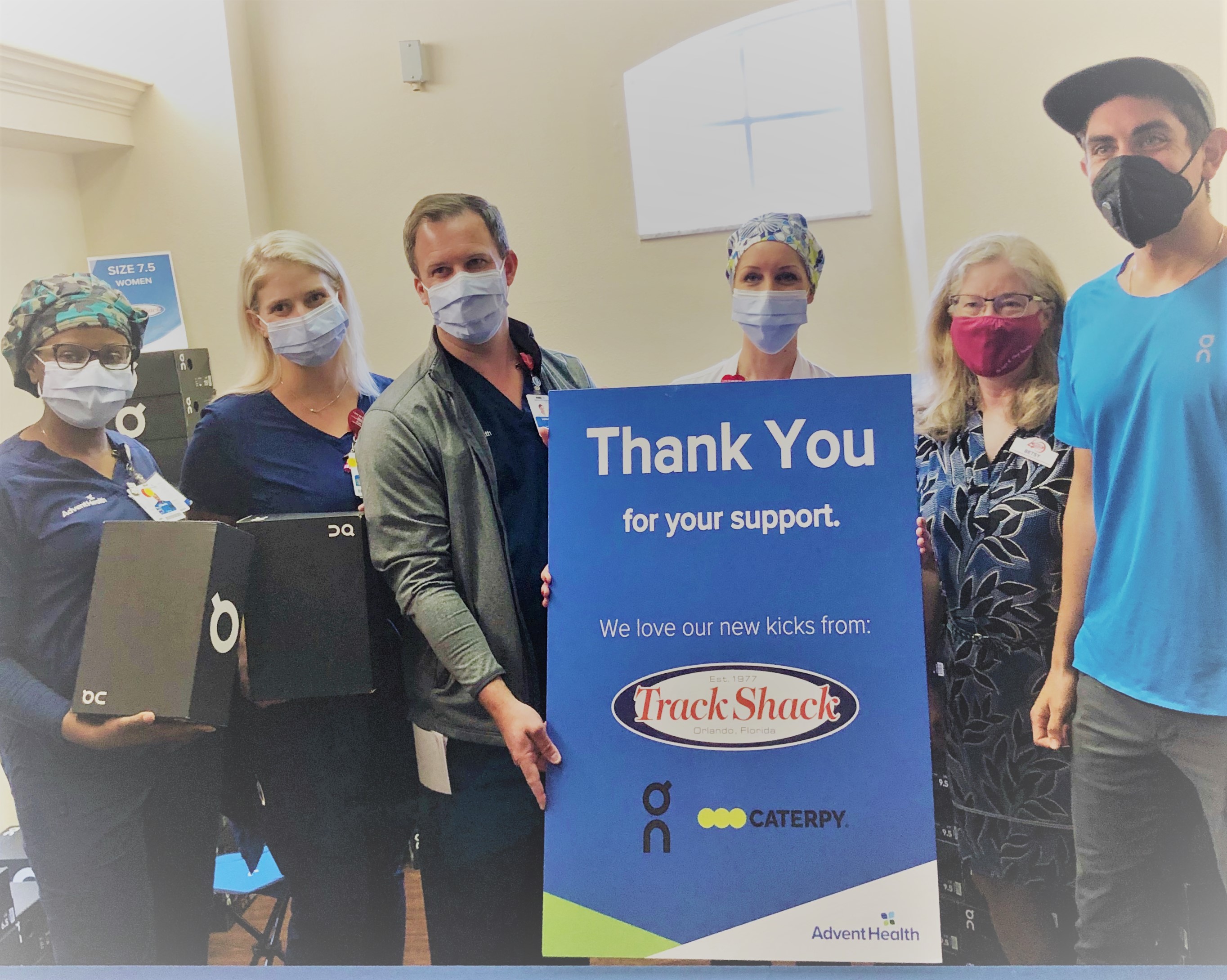 On Running teamed up with Caterpy laces to provide local healthcare heroes running shoes with no-tie laces.
"Our society relies on healthcare professionals to take care of those in need while selflessly putting themselves at risk. Shoes and shoelaces rank among the top items to carry germs. Having to touch them less means a safer and more sanitary day,"
said Anthony Pong, Distributor of Caterpy laces. "We donated our product to local healthcare organizations in our hometown of Orlando and beyond."
AdventHealth Foundation distributed shoes frontline workers at AdventHealth who served during the COVID-19 pandemic.
Video Visits for Your Health Care Needs
Health Care services are still available to you during the coronavirus pandemic. Most of AdventHealth Medical Group practices, from primary care to pediatrics to specialty care, offer video visits (telehealth appointments), which also helps keep people safe at home. You can speak with a medical provider in a video visit or phone call and may be advised to make an in-person visit, if it's deemed necessary. To schedule an appointment, visit TrackShackTelehealth.com.
Use Facebook to Leave a Comment
- We'd love to hear from you.