Track Spike Review: Digging In To The Details!
By Shane Huckeba, Shoe Expert at Track Shack and Former Collegiate Athlete
What's more fun than running around in circles? Yup, running around in circles really fast. Track season is upon us and this post is dedicated to the high school, collegiate, highly competitive runners, or those of you who know someone that fits into that category. This is not so much a review as it is informational. In this blog I'll be talking mainly about the following points: Who are spikes for, why should you buy them, and which one is right for you? Without further ado, let's jump in.
Sprint:
Sprinting spikes are characterized by their intense, structured spike plate in the forefoot of the shoe. With their non-existent heel cushioning, the athlete is incentivized to maintain a proper sprinter's stride and stay up on their toes. These shoes are ideal for the 100m- 400m athlete looking to step their game up to the next level.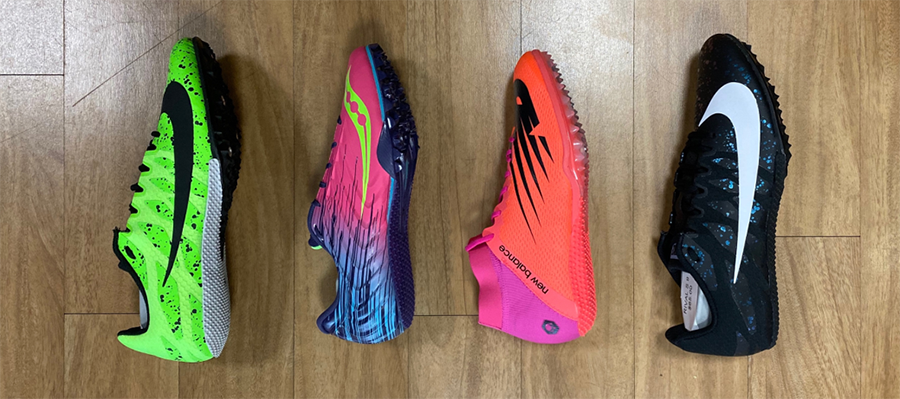 Mid-Distance:
Middle Distance spikes are pretty similar to the sprinting spikes. However, they have a less intense spike plate in the forefoot of the shoe and slightly more cushioning in the mid-foot/heel area. The spike plate will keep the runner on their mid-foot/forefoot region, but for those athlete's whose form breakdown towards the end of the race it has some extra padding to take some impact. Designed for races between 400m and the mile. This is also a good spike for the athlete who doesn't necessarily know what type of races they'll be running in, while not recommended for anything over the mile.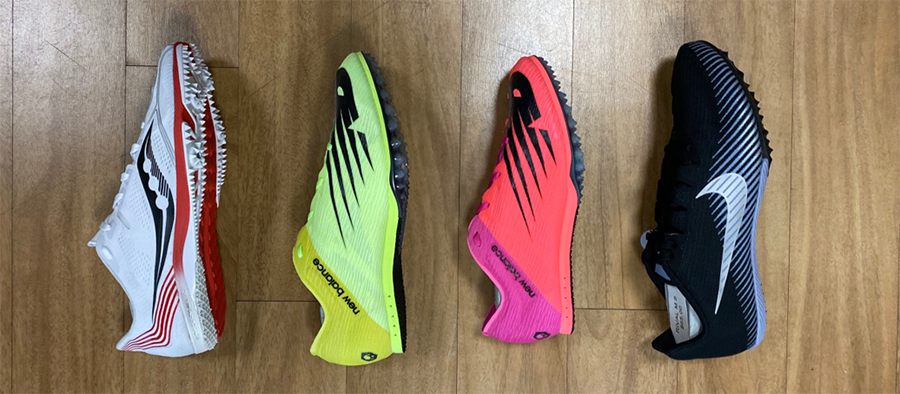 Long Distance:
The long distance spikes are designed for the runner who is mainly competing in distance over 1600m. If you do an occasional 800m race but mostly race the 1600m and 3200m you can use this category. Defined by a much less rigid spike plate in the forefoot this spike will have the most padding of the categories. For distance runners the ideal foot strike is not necessarily on the toes only, but mostly in the mid-foot, with this in mind the shoes are padded where it's needed. These styles of spikes also typically have a much softer and breathable upper mesh.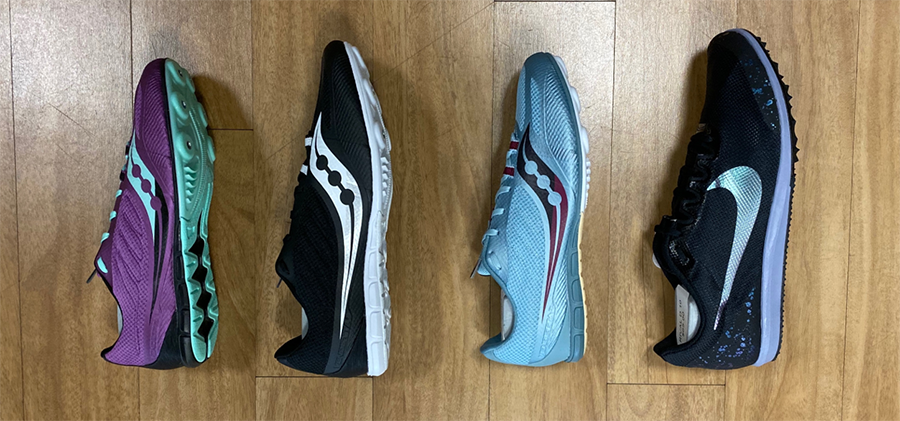 Field Events:
Field event shoes vary quite a bit but here is a brief rundown. It is common with these shoes to have an additional velcro strap across the midst and instep to provide a little additional stability for the foot.
Shot-put shoes will not have any spikes but rather an outsole designed for a spinning motion to increase the rotational forces needed to launch that shot-put as far as possible.
Long Jump spikes are "fairly" similar to sprint spikes in terms of structure, though they usually have a zipper on the instep to cover the laces and the shoe to help prevent sand from getting in.
High Jump spikes are going to be the only shoes that have spikes located in the heel as well as the forefoot to help with the planting motion in order to transfer the forward momentum into upward momentum.
Pole Vault spikes offer similar levels of structure that the long jump spikes do, though often time the spike plate of pole vault spikes extends around the forefoot slightly with sections that travel up the midsole. This is simply to give the foot a more reliable plant so less power is wasted.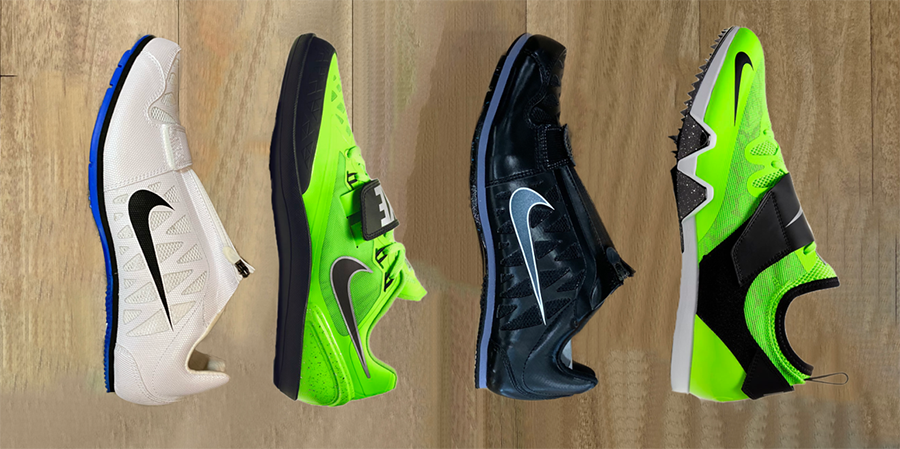 A few things worth pointing out is about comfort and fit in the spikes. First and foremost, these are competition shoes and they have a purpose. While in a training shoe we may want to leave a little extra space in the toe box for the feet to swell, in spikes we aren't as worried about that. Your shoes should be snug but NEVER uncomfortable. For the majority of these events and competitions you won't be wearing your spikes long enough for the foot to swell too much. You should never feel constricted by your shoes but not having a lot of wiggle room isn't as important. Some athlete's even go so far to not wear socks at all, but that is a matter of preference. One last tidbit, spikes should only be worn on soft, non-asphalt tracks. The spikes are essentially useless on concrete and asphalt.
As always we can help with these determinations at Track Shack. Come in and try some out. With track season getting underway it's a good time to either re-up on new spikes or get your first pair. Parents if your kids have expressed interest in being serious about running or the sport in general, this is an investment worth making. As a former high school and collegiate athlete, spikes were essential to get the utmost out of my (and your) performance and chase those PR's and those scholarships.
Do you love track season as much as we do?! Shout out for your athlete/school!
Track Shack is a specialty running/walking store that has been serving the footwear needs of Central Florida's fitness enthusiasts since 1977. Our experienced and knowledgeable staff takes each person through a custom fitting process. Shoes and feet are our business but people are our specialty! Now that you're here, walk through our user-friendly website and welcome to the Track Shack family!
Use Facebook to Leave a Comment
- We'd love to hear from you.