Staff Shoe Review – ASICS Gel Nimbus 22
By Abby Slauter, Shoe Expert at Track Shack
Whether I'm logging some serious mileage in training for a half marathon or working on my feet all day, the Gel Nimbus has been my go-to shoe for years. I tell my customers not to fall in love with just one shoe because eventually the manufacturer will change something about the shoe that you don't like, or—worse, discontinue your sole mate entirely. For me, the ASICS Gel Nimbus has been my main squeeze since I started running. Sure, other shoes have caught my fancy and I've had some brief love affairs with them, but I always go back to the Nimbus in the end. I have a neutral arch and this high-cushion shoe delivers shock absorption where my foot needs it and cushion where I want it. I actually skipped the last version of the Gel Nimbus and ran in another shoe for a while because I found the Nimbus 21 to be too stiff for a high-cushion shoe, and, well, a little boring in design in its last iteration. This year, however, with the 22, ASICS really got the shoe right.
One criticism of the Gel Nimbus in recent years is that it was getting narrower and shorter, but ASICS listened to that feedback and engineered a shoe that runs true to size and has more space in the forefoot—a plus during those longer training runs. In fact, almost everything about the Gel Nimbus 22 has been designed with the distance runner in mind. While I have been known to show up at the track for speed work in the Nimbus, there is no doubt that its accolade has primarily been for delivering a bouncy and responsive ride on serious distance runs.
While the Gel Nimbus 22 retained the same respective 10mm and 13mm drops for men's and women's models, veterans of the shoe are likely to notice that ASICS added an extra 5mm to the stack height of the shoe this year. The stack height, in layman's terms, is everything between your foot and the ground. This was done to add an extra 2mm of ASICS' FlyteFoam material in the midsole, delivering an even softer and bouncier ride than in years past. On the Gel Nimbus 22, a larger section of GEL wraps all the way around the heel, offering better rearfoot impact protection and a smoother transition for those of us who may—gasp!—occasionally heel-strike on those long training runs. ASICS has also improved the shape of the forefoot GEL in the front of the shoe, which helps to reduce stress on the feet. It should be noted that the inclusion of both gel and foam in the midsole is a feature unique to ASICS and what has kept die-hard fans coming back for their cushion throughout the years.
I was several hundred miles overdue for new running shoes. I cannot stress enough that this is a bad idea and I was probably putting myself at risk for injury by delaying a new shoe purchase, but I knew the new Nimbus would be arriving soon and really wanted to hold out for its arrival. When my old friend showed up a few days early just in time for my long run the next morning, I let out a squeal of delight and a happy dance and quickly pulled one from our stock to try on.
My immediate impression was that there is a ton of cushion and my foot felt really ventilated when I ran. The new monofilament mesh upper of the shoe is softer than its predecessors and notably more breathable—a key feature when you live in a climate like Florida and your customers frequently request a shoe that won't make them feel hotter. A mesh upper is quickly becoming the industry standard for the weight reduction and enhanced breathability it offers. Using monofilament mesh let ASICS design a shoe that feels like it forms to your foot without being restrictive. While the mesh upper serves the shoe technically, it also makes for a better-looking shoe. The aesthetic of the shoe is much sleeker this year, and ASICS chose some great color options for those of us who can't bring ourselves to sacrifice style for function.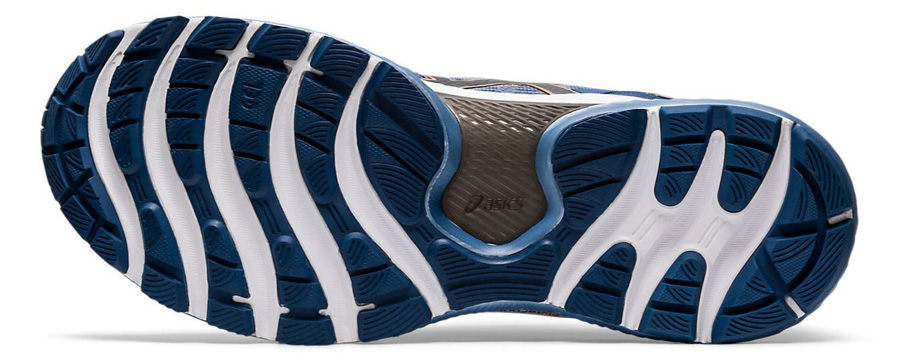 The Nimbus 22 features FlyteFoam Propel technology, which ASICS says offers a high-energy return to deliver a bouncy ride. I have found this to hold true over the 40+ miles I have put on my new shoes. While I recommend that runners usually go for 1-2 shorter runs with a new pair of shoes before going long distances in them, my foot is so used to the Gel Nimbus and I was in such need of a new shoe that I threw caution to the wind and immediately took my new running buddies for a 12-mile run. Not one ache or pain occurred, even though I am currently recovering from a severe case of IT Band Syndrome that often flares up on my longer runs. I am among the class of runners who want to feel like they are stepping on clouds while they run, but I've found that many other soft shoes either sacrifice responsiveness for plush or lose their support after about a hundred miles. The ASICS Gel Nimbus, however, has always stood up to the test of time and continued to support and cushion my feet through hundreds of miles on Winter Park's unforgiving brick roads.
The Gel Nimbus 22 also has more outsole flex grooves and made them deeper, which contribute to a smoother ride. Of course, that smoother midsole is still protected by the AHAR outsole, which stands for ASICS High-Abrasion Rubber. The company says AHAR provides the "exceptional durability" that their runners have come to love about the brand.
This might seem like a strange thing to say about a shoe designed for the road, but the Gel Nimbus is also one of my favorite trail shoes due to its rare blend of cushion and control. Tapered enough to leave me confident in my footing, yet soft enough that tree roots don't bother me, the Nimbus' ability to go off road is an often-overlooked feature. In fact, my last pair of 20s are about to transition to my become my light trail shoes in their retirement months now that I'm logging most of my road training miles in the Nimbus 22.
While this shoe is best-suited to neutral runners and underpronators, it's a shoe I often put walkers and workers in who want the ultimate in support and comfort when they're on their feet. The gel cushioning combined with the structure of this shoe also makes it a contender for people who are recovering from plantar fasciitis. Whether you are in training for a distance race or just in search of a shoe that will deliver all-day support and comfort, stop by Orlando Track Shack and give the ASICS Gel Nimbus 22 a try!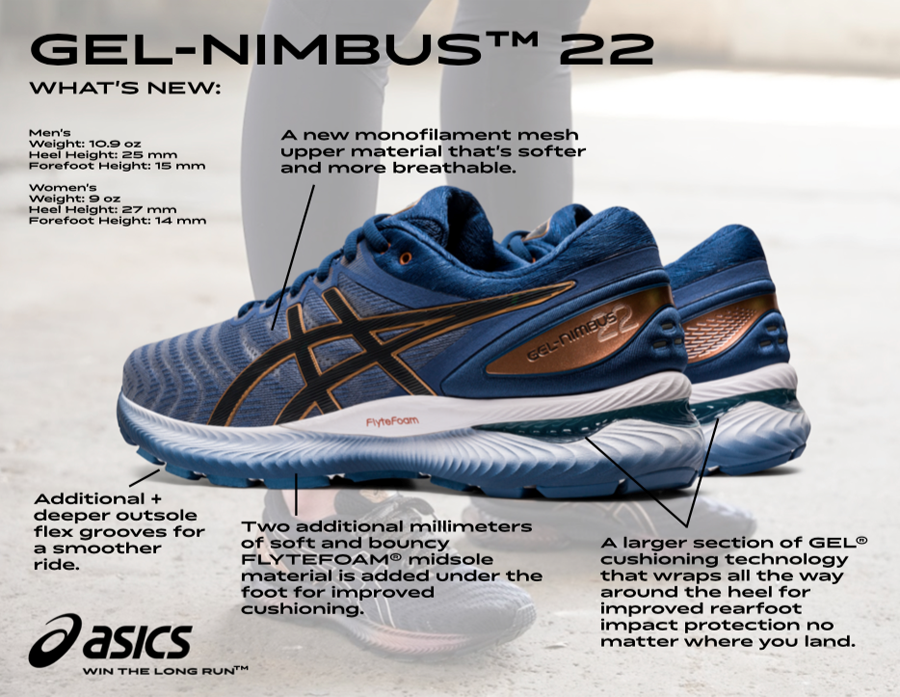 Track Shack is a specialty running/walking store that has been serving the footwear needs of Central Florida's fitness enthusiasts since 1977. Our experienced and knowledgeable staff takes each person through a custom fitting process. Shoes and feet are our business but people are our specialty! Now that you're here, walk through our user-friendly website and welcome to the Track Shack family!
Use Facebook to Leave a Comment
- We'd love to hear from you.