Running Into the New Season
Each year around this time we celebrate our anniversary of "Keeping Central Florida Fit."  Track Shack opened in 1977 in the height of the running boom and Central Florida's running and walking community was set in motion!  View Track Shack's history >>
We look forward to the start of running season when the race calendar is full of 5ks, 10ks, half and full marathons.  Our upcoming Celebration of Running 5k feels a little like a homecoming where you see running friends you haven't seen in a while, don't you think? 
Our staff shares that same feeling.  We also share your goals to be fit, healthy and to achieve personal records.   We're excited to be running into the 2019-2020 event season introducing some new features and a renewed commitment to producing quality event experiences that benefit you and our entire community.
Here's what's new!
-
Track Shack Running Series prize money
increase for overall winners.  Florida's largest prize purse for a running series.
- New Celebration of Running 5k course
- A commitment to reducing our environmental impact.
o Together with partners and municipalities, step by step we are eliminating single use plastics (water bottles) at our races. 
o Paperless results  – Look for Results Tent in post-race area!
- Event Alert system (EAS) – We join other events around the country in implementing this color-coded system which quickly communicates to participants the potential for adverse weather conditions that can affect the event. A series of color codes used to indicate the increasing severity of adverse conditions as outlined below: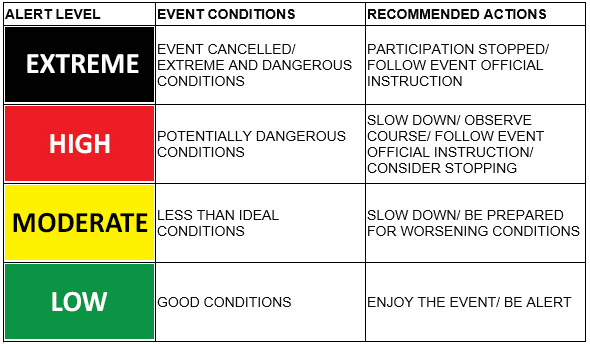 What are you most looking forward to this season?  Share below!
Use Facebook to Leave a Comment
- We'd love to hear from you.