2019 IOA Corporate 5k: Healthy Living at Any Age is Good Business
At 5:45 p.m. on Thursday, April 18 a pre-IOA Corporate 5k event was already underway. Held in tandem with the IOA Corporate 5k, Orlando Lutheran Towers Foundation put on a Walk for Wellness for residents at Orlando Lutheran Towers (OLT), a senior living community located just two blocks from Lake Eola. About 120 employees and residents took a 10-minute group walk or roll around the property to lift up the importance of daily exercise to stay well.
Over at Lake Eola, another 689 teams made up of corporations, government agencies, schools and non-profits gathered to participate in the largest IOA Corporate 5k of the event's 25-year history. Orange County Mayor Jerry Demings joined a robust and colorful Team Orange and walked the 5k.
All told, 18,200 runners and walkers of all ages joined together on a warm and sunny Central Florida night to rally around the cause of workplace wellness and to help ease local food insecurity. Participants and sponsors eagerly contributed 154,000 meals (and counting) to Second Harvest Food Bank and the Christian Service Center's Love Pantry.

Fast times were posted by overall winner Jonathan Mott with CRU who ran 15:49 and Eric Weitz, the first female finisher with a time of 17:41. Erica who represented the Track Shack Fitness Club recently qualified for the Olympic Trials in the marathon. View results >>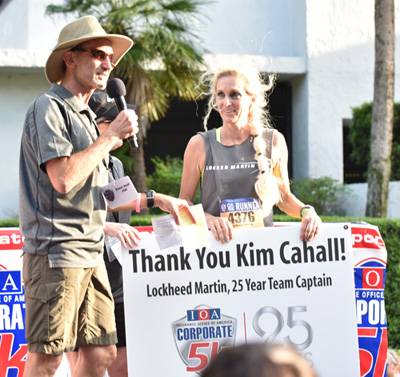 While we know there are companies like
IOA
who have participated in all 25 Corporate 5k events, we took an opportunity to recognize Kim Cahall,
Lockheed Martin
's Corporate 5k team captain since 1995. Kim is passing the baton to the next wellness champion who'll keep the team healthy, organized and always on the podium in the Manufacturing category.
"It's been a thrill over the past 25 years to see a growing commitment not only to the health of our teams at work but also to the health of those in need around us. We're a truly blessed community," said Danny Anderson, regional president for Insurance Office of America. "Let's not slow down now. Let's challenge ourselves and encourage those around us to continue that growth, invite others to join in, and make the year ahead one of healthy living and generous giving."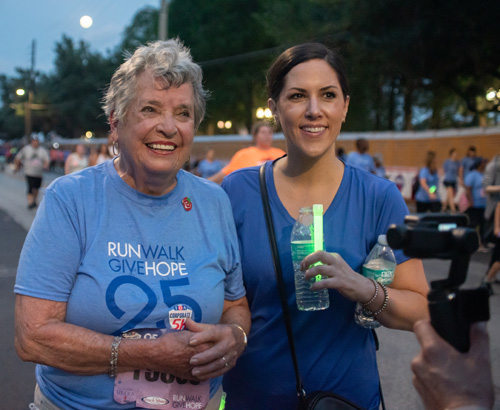 The essence of the IOA Corporate 5k is camaraderie. Orlando Senior Health Network (OSHN) is an inspiring example of how to build an inclusive team. They represent a family of companies that provide quality senior living and healthcare services. Team OSHN includes Orlando Lutheran Tower residents, 76 employee and 70 vendor representatives running or walking together in the 5K. They make it a huge, multigenerational celebration with great food and drink, live music and wonderful community. "Our philosophy is that no matter when you start, a healthy lifestyle, along with a 10-minute walk each day, can make a difference in how you feel and what you can do," says Steve Rosebrock, Director of Orlando Lutheran Towers. "We're already looking forward to next year!"


Thanks to the Top Contributing teams!
40,000 Meals – GreenspoonMarder
14,000 Meals – Brooks Running
12,000 Meals -- Insurance Office of America
10,000 Meals – National Staffing Solutions
Congratulations to the Top Five Largest Teams!
1. AdventHealth - 914
2. Orange County Government - 713
3. CRU - 454
4. Walt Disney World - 249
5. Hilton Grand Vacations - 243
Save the date for Thursday, April 9, 2020, the 26th IOA Corporate 5k!
Use Facebook to Leave a Comment
- We'd love to hear from you.