Seasons 52 Park Ave Recap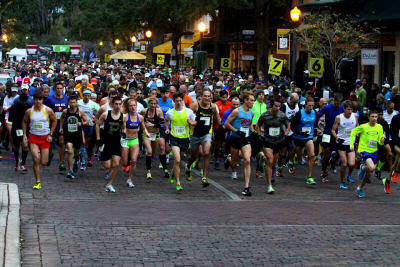 Usually when you realize you've just run 5.2 kilometers in a race it's a bad thing – it means somebody messed up measuring the course or that your GPS isn't handling turns as accurately as it used to. On Saturday, however, running 5.2k was the goal, and 2,400 of you came out and earned some great PRs for the nary oft run distance.
The men's overall race featured the same key players from Series' fall races in Bill Vanos, Paul Nielsen, and Seth Proctor. With Nielsen and Proctor coming off winters spend hobbling around in immobilization boots, it was Masters athlete Bill Vanos' race to lose. Within 100 meters of the race's start, however, it was clear that Vanos would continue to successfully outrun Father Time in addition to his compatriots as he won the race in dominating fashion leading from start to finish.

The women's race was slightly closer, though. Natasha Yaremczuk won by a mere 6 seconds over Heather Schulz, and thus kept alive a tradition of close races between the two that we've seen since the fall. Charging up right behind Schulz was Erica Weitz, who was also battling up front and finished a mere 3 seconds per mile off of Yaremczuk's win for 3rd overall.

With race day temperatures being under 40 with windchill at the start all racers were toeing the line with the best conditions the Track Shack Series has seen since last spring. The little added speed everyone saw, along with some nice, hot coffee from Hunter Vision was plenty to keep a warm atmosphere as everyone streamed across the Park Avenue finishing line and into the park's post-race area.

True to their roots as a top class restaurant Seasons 52 showed up with fresh, organic grapes and boxes on boxes of Clif bars in addition to the great signature Seasons 52 earbuds they were giving out on site! But the prizes didn't stop there, nope, not at all. Seasons 52 wanted to make sure that there was more than one big winner to cross the finish line, and awarded a $52 gift card to every 52nd finisher and Nathan Harvey was the winner of the special Seasons 52 Chef's Table experience.

With all the potential for good food and drink coming down the line many racers were happy to be able to stop by the Florida Hospital Healthy 100 area. Besides being able to snag a cheeky post-race massage (or dreaded injury consultation), athletes were able to get a professional check of their BMI to confirm they'd really and truly earned that post-race Seasons 52 feast for all their fitness progress!

The Track Shack Running Series continues next month on February 15th with the Run Around the Pines presented by Florida Hospital. Be sure to get registered early and take advantage of the early registration prices! With just two races left in the series, be sure you're checking your standings going into race day! See you on the roads, Orlando!


Use Facebook to Leave a Comment
- We'd love to hear from you.