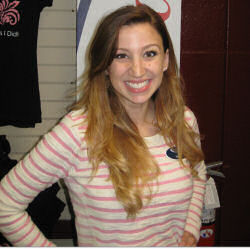 Track Shack Welcomes Katie
With the coming of the New Year you may have noticed a new face by the shoe wall in Track Shack. This lean, southern brunette is Waco, Texas transplant Katie. She is our newest addition to the Track Shack staff, and is here to help make sure you find the right shoe, the right gear, and the right nutrition products for your needs!

Katie comes to Track Shack having finished her eligibility as an NCAA athlete, and her MA in Christian Ministry. During her time as a Bear Katie not only distinguished herself in her academic pursuits, but on the track and the cross-country course at the NCAA Division I level. Sporting a 35:06 10,000m best on the track Katie made the first round of the NCAA Track & Field Finals, and snagged multiple All-Big 12 honors. Racing over hill and dale Katie's strength showed even more. While picking up more All-Big 12 honors she also qualified for the NCAA Cross Country Championships on three occasions.

Having followed her fiancé to Orlando, Katie is bringing her in-depth, personal knowledge of everything that is running and going fast to all of Track Shack's customers. Katie is here to make sure you find exactly what you need to make you the best athlete possible and help you achieve your excellent!

Use Facebook to Leave a Comment
- We'd love to hear from you.