Staff Shoe Review – ON Running
By Shane Huckeba, Shoe Expert at Track Shack and Former Collegiate Athlete
So here we are again with another shoe review, it almost feels like we are friends at this point! In order to keep this wonderful friendship going I have a gift for you today. One of the most anticipated shoe brands to come to Track Shack is finally here: ON. No, that's not just a word but an extremely popular and innovative shoe company hailing from Switzerland. ON is probably one of the most unique shoe styles out there which can be a little scary for people, but fear not my Track Shack fanatics, I am here to make that fear a little less scary and a little more exciting. I already know your first questions, as were mine when I first heard about them, what makes them worth it? Why should I care? I already have great shoes. Well my inquisitive reader, you ask some good questions. So, let's unpack those questions a little bit.
In 2010 in Zurich, the creators of ON were running [by the way, there are going to be unavoidable puns in this blog because who I am as a person] into a problem with the traditional style of trainers. "Why is everyone so focused on controlling my foot and not letting me be my natural self?" It's a conundrum they felt called to solve. Running is one of the most inherent and natural things we as humans can do. Though running barefoot is natural, running on pavement is not. To pound out the mileage we need the cushion and THAT is where ON began their innovation. This innovation has led to them being the #1 selling shoe brand in the European market.

Sounds good right? Though, I still haven't answered your questions. What makes ON different? The answer lies in their CloudTec® cushioning technology. Yay, fancy trademarks and patents! Essentially they have the vertical cushioning you expect from a quality shoe, but also a horizontal cushioning system to conserve and return all of the momentum to keep you in the air as long as possible. The pods on the bottoms, aka "clouds", compress on impact in a way that provides you that initial absorption but then firms up giving you a great push of sensation. No other shoe provides that horizontal cushioning system and that is really what makes ON a shoe to keep on your feet.
Without getting too deep into the clouds, there is another piece of tech I want to touch on and that is the Speedboard inside the shoes. Though the entire line of ON are an inherently flexible shoe, they have a solid piece of sole that insures the forefoot has some sort of foundation underneath it, which if I'm being honest, is extremely important.
Before we get into specific shoes and I have a little surprise, I want to speak candidly for a minute. At Track Shack we want everyone to remain injury free. While the shoes are innovative and high quality they are not for everyone.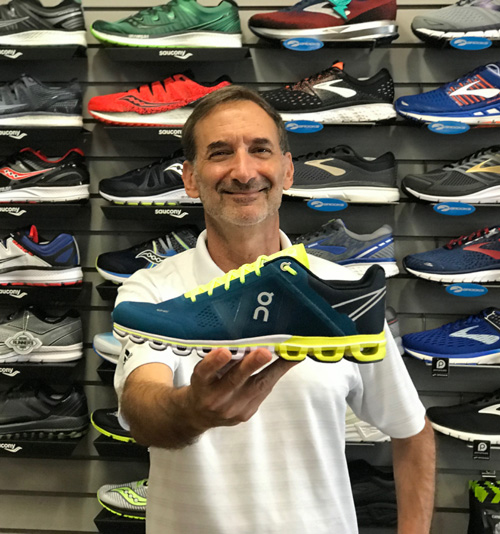 If you are doing a high volume of mileage, you really do need an efficient running stride to get the most out of these shoes. This shoe is not only meant for running though. A solid walk around shoe, gym shoe, or even a casual stylish model, and to illustrate that point I'd like to introduce a man who has been in the running community and the shoe business longer than I have been alive, Jon Hughes, co-owner of Track Shack.
What brought you to ON in the first place?
Jon: Because we were considering bringing ON into Track Shack, I received a pair of Cloud Flow, my model is an older version and I did find the shoe picked up little rocks while running.
What styles of ON have you tried?
Jon: The Cloud Flow is extremely comfortable and I'm able to wear it without socks.
What activities do you usually use your ON shoes for?
Jon: It has definitely become my go to shoe for the gym. It is flexible and lightweight. I may consider trying to run in the current version, but I really like them for the gym and for casual wear.
Right now at Track Shack we carry three staples of the ON line— the Cloud, Cloudflow, and Cloudflyer. View ON spec sheet.
Whew, this one was a little lengthy, thanks for sticking around to the end. Remember, whether you are an efficient runner, an avid triathlete, a gymrat, or just someone look for a comfortable shoe, come into Track Shack, try them and see if they're a shoe you'll always want to keep ON.
—SH
Track Shack is a specialty running/walking store that has been serving the footwear needs of Central Florida's fitness enthusiasts since 1977. Our experienced and knowledgeable staff takes each person through a custom fitting process. Shoes and feet are our business but people are our specialty! Now that you're here, walk through our user-friendly website and welcome to the Track Shack family!
Use Facebook to Leave a Comment
- We'd love to hear from you.