A Runner's Journey
By Kirsty Walker, Orlando.
I began running in my teens on a doctor's recommendation to help poor blood circulation. I grew up in Western Canada where the only cross country teams were cross country ski teams. Even so, I had access to an indoor running track where eight loops equaled a mile. Obeying doctor's orders, I would go to run one to two miles every other day. It wasn't long before I realized that I felt better after my run. Whatever anxieties or stress I had before a run didn't seem to be such a worry after.
The opportunity to participate in races began when my husband and I moved to Central Florida. We would run all the Track Shack 5k & 10ks that were offered. The races gave us a reason to get out and stay fit. They also introduced us to different distances.
During this time, a beloved former colleague and marathoner inspired me when he mentioned that he started running marathons in his forties. When my husband and I crossed the finish line of our first half marathon, I knew I would run a marathon one day but I knew I would need a proper training program to do so.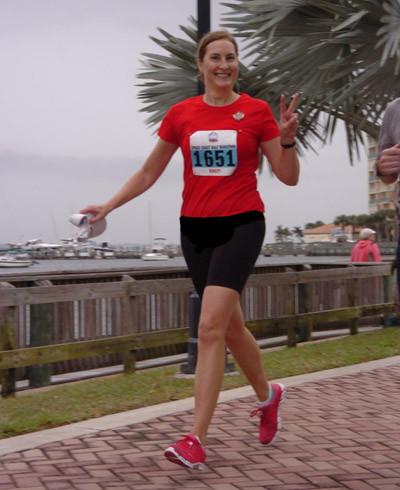 Here again, Track Shack had a choice of marathon training programs to choose from. I chose the Galloway low-mileage, injury-free program and completed my first marathon in 2009 (Disney). If you haven't run a marathon, it makes you feel like a superhero. It is your achievement and it is historic. Running a marathon gives you the opportunity to experience a city or the countryside in a way that you wouldn't if you didn't run.
To-date, I've completed 40 half-marathons, Disney Goofy, one Ultra marathon and 18 full marathons including Marine Corps, Big Sur, Chicago, New York and Boston. I can't imagine that I could have completed any of these without Track Shack and Jeff Galloway's training.
I've met & made so many friends through marathon training. I believe that meeting & running with people of all ages and backgrounds has broadened my perspective on the world. It is my ultimate running dream to complete a marathon in each of the 50 states. That's going to take a while so I guess I'm committed to running for life. Big thanks and congratulations to Jon & Betsy and everyone at Track Shack on supporting
running in Central Florida for 40 years! I am one very grateful runner.
See you on the roads and at the races!
Use Facebook to Leave a Comment
- We'd love to hear from you.