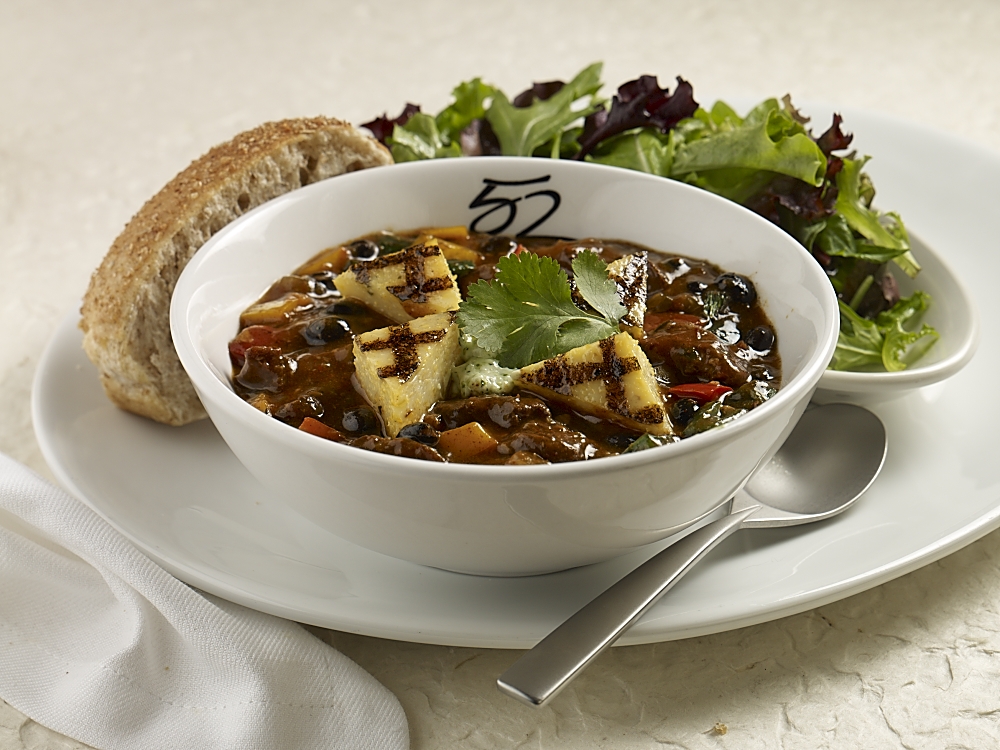 A HEARTY CHILI RECIPE FROM SEASONS 52
If there were an official dish of winter, it would undoubtedly be chili. Rich and hearty, flavorful and cozy, it's the perfect counterbalance to the cold days of the season. And while chili aficionados can be intensely loyal to their own recipes, Seasons 52's Chef Pleau would like to offer up one of his favorites for your consideration.
Serves 10-12


Ingredients:

1½ tablespoons chili powder
1½ tablespoons paprika
1½ tablespoons ground cumin
1 tablespoon Kosher salt
2 tablespoons flour
½ teaspoon freshly ground black pepper
1½ pounds beef* (chuck, shoulder or round), trimmed of fat and cut into ½" cubes
2 tablespoons canola oil
1 onion, finely chopped
2 red bell peppers, seeded and diced small
2 poblano peppers, seeded and diced small
3 fresh garlic cloves, minced
1 jalapeño pepper, seeded and minced fine
4 tablespoons fresh oregano, chopped
1 tablespoon Chipotle Tabasco
2 bottles Guinness Stout or dark beer
2 cups tomato sauce
3 cups black beans, canned, drained and rinsed
4 ounces fresh lime juice
¼ cup cilantro chopped fresh
¼ cup chopped fresh parsley
Cornbread and low-fat sour cream for garnish

*Recipe may be made with venison, lamb or buffalo.

Directions:

1. Preheat oven to 325°F.
2. In a shallow bowl, stir together chili powder, paprika, cumin, salt, pepper and flour. Rub beef with spice mixture. Cover and marinate in refrigerator for one hour or overnight.
3. In a heavy braising pot, heat canola oil over medium-high heat. Add beef cubes and sear until crispy and browned on all sides. Remove and reserve. To ensure browning, sear beef in two to three batches.
4. Reduce heat to medium and add onions, peppers and garlic, stirring until softened, three to four minutes. Add jalapeño and oregano; cook, stirring for one minute. Remove vegetables from pan and reserve while chili cooks. Add beer to deglaze pot and bring to a boil. Cook, stirring until liquid is reduced by half, three to four minutes. Add tomato sauce and Chipotle Tabasco and bring to a simmer. Add reserved beef. Cover, transfer to the oven and bake 1 to 1¼ hours, or until beef is very tender.
5. When beef is tender, add black beans and reserved vegetables to pot. Bake chili for 15 minutes longer.
6. Remove chili from oven. Stir in lime juice, chopped cilantro and chopped parsley. Serve chili in bowls, garnished with a dollop of sour cream, cilantro, parsley sprigs and cornbread.


Use Facebook to Leave a Comment
- We'd love to hear from you.