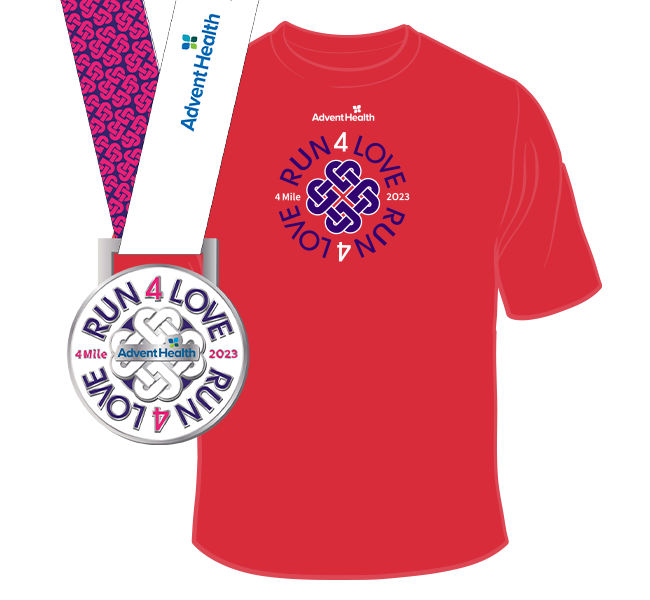 Run 4 THE TECH SHIRT & FINISHER MEDAL
We all have expectations. The gender specific tech shirt AND the awesome finisher medal are one of those expectations. We hope you love them!
---
Run 4 THE BEST OUTFIT CONTEST
Do you have an outfit or costume that is perfect for this occasion? Wear it! There are no rules on the theme.
Random winners will be selected and receive a gift card! You may be spotted at the start, in the post race, or at the finish so make sure to stay in character!
---

Visit the AdventHealth Tents
Come visit the AdventHealth tent to learn more about taking care of your heart's health and to capture a commemorative 360 race day selfie image! Physical therapists provide runner/walker injury assessments and demonstrate foam rolling techniques to keep you on the road and feeling great.
---

On race day, find your results on the Carl Black Leaderboard! PLUS - FOUR lucky participants have a chance to win $250 in Track Shack gift cards compliments of Carl Black. Visit the Carl Black tent prior to the race start to enter to win!
To find your next vehicle visit Carl Black of Orlando!

---

Kids' runs are free for all children. Distances range from 100 yards to 1 mile and children will be placed in age appropriate groups. Registration available on race week. T-shirts are first come first serve. All finishers receive a ribbon. Staff and volunteers are present along the mile route. Parents may accompany their child but may not pace or impede other children in the race.
Thank you to our Track Shack Running Series Kids' Race Sponsors!
Virtual Option
Enjoy a virtual experience at home or in one's own neighborhood.
FREE downloadable bibs and finisher certificates! Click to print.
---
Run 4 THE ACCOMPLISHMENT
All finishers receive a finisher's certificate. Don't forget to provide your email address!
---
Run 4 THE PHOTOS

Be sure to wear your bib number on the front using all four pins so that it's visible to photographers!
Visit www.bbactionphoto.com to view race day photos. Participants will be notified by email when photos are ready for viewing!