Visit the AdventHealth Tent
We know U Can Finish this race and we want YOU to feel the best you can while doing it! Swing by the AdventHealth tent for:
• Pre and post-race stretching & foam rolling
• Photobooth
• Complimentary massages 
• Free screenings by our Physical Therapists
---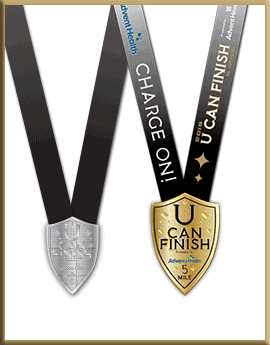 (2019 medals pictured)
• All entrants receive a gender-specific t-shirt.
Sizes are not guaranteed on race day.
• 5 Mile and 2 Mile finishers can proudly display their accomplishment with a beautiful medal!
---
Distance Dare
• Distance Dare finishers receive THREE medals! One for the 5 mile, one for the 2 mile and the Distance Dare Sword.
• Gain more mileage at one event
• Receive cumulative race results for both the 5 mile & 2 mile
Start your collection of "Distance Dare" Results!
Spice up your race by racing both the 5 Mile and the 2 Mile distances for a total of 7 miles! Register early! Capacity is set at 800. 
Note the start time of both races to make sure you are able to complete the 2 mile before the start of the 5 mile.

---
UCF Student Team Challenge
EARN $250 FOR YOUR STUDENT ORGANIZATION!
Track Shack will be hosting the most active event on campus, the U Can Finish 5 mile and 2 mile with 2600 runners and walkers. UCF Student Organizations can compete in the student challenge by recruiting a team to run/walk. The largest team (minimum 15) wins $250!
---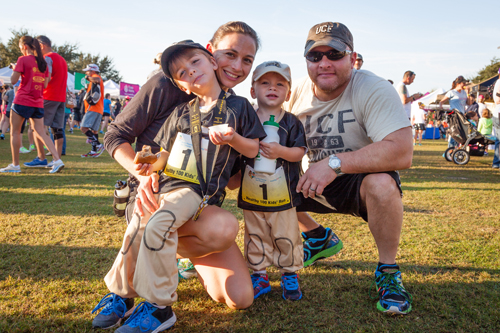 Kids' runs are free for all children. Distances range from 100 yards to 1 mile and children will be placed in age appropriate groups. Registration is on race day at race site. Free t-shirts in youth & toddler sizing are available to registered participants on a first come, first served basis. All participants receive a finisher's ribbon! 

---
Celebrating Your Accomplishment
All finishers receive a finisher's certificate. Don't forget to provide your email address!
---
Event Photography
Be sure to wear your bib number on the front using all four pins so that it's visible to photographers! Visit www.bbactionphoto.com to view race day photos. Participants will be notified by email when photos are ready for viewing!