U Can Finish 5 Miler, 2 Mile and Distance Dare Recap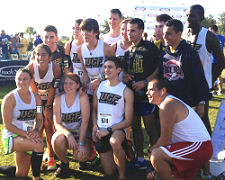 Sunday October 13th saw over 2,200 athletes converging on the University of Central Florida's Memory Mall. Some came out to race the 5 mile event, others the 2 mile race, and still dared to attempt Track Shack's Distance Dare for the event and run both.
Participation at a glance:
5 milers: 1528
2 milers: 1014
Distance Dare athletes: 560
UCF Alumni: 479
UCF Students: 338
Future Alumni (Kids): 137

No matter what race (or races) runners showed up to compete in, every road runner was greeted with beautiful Central Florida fall temperatures and a nice pancake flat course – both of which were more than welcomed by those doing the Distance Dare! To go along with the cooler weather, Hunter Vision was on site handing out warm, energy boosting coffee to all, too.

With all the runners gassed up on caffeine and riding high on memories of crisp fall cross country races of the past, the 5 mile set off at 7:30am. The largest race of the day featured UCF alum and 2:25 marathon runner Paul Nielsen looking to defend his title against the competition. Neilson jumped out to an early lead with a 5:05 first mile and never looked back. Despite easing his pace the last mile Neilson's crown remained firmly on his own head against Seth Proctor, who will be chasing an Olympic Trials qualifier in the Houston Half Marathon this January, and Will Vanos, the collegiate All-American and resurgent Master's athlete.

Full results are available at http://www.trackshack.com/events/race_results/view_results_gp13.php?Link=288

Similar to the men's run, Bryce Seymour won the women's by getting out quickly and maintaining to take a 20 second race victory over Laura Bowerman in 30:18. Those who braved the Distance Dare found themselves looking at a clean pair of heals provided by Matthew Marquez who ran 29:11 in the 5 mile and 11:09 in the 2 mile to take the combined race victory.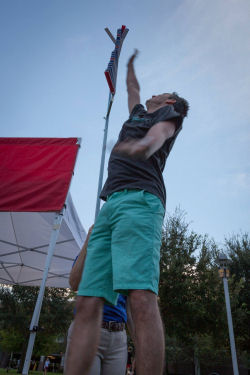 After the races were over the weather continued to beautiful while athletes were able to shop around the different tents on the Memory Mall and watch as the kids' races went off. Especially popular was Florida Hospital's set up where they were providing vertical leap testing. After testing our their springs runners could get competitive and compare themselves to their friends' airborne accomplishments and learn from hospital staff how to improve their power and strength, and how these play into making them into even faster, more efficient, less injury prone runners!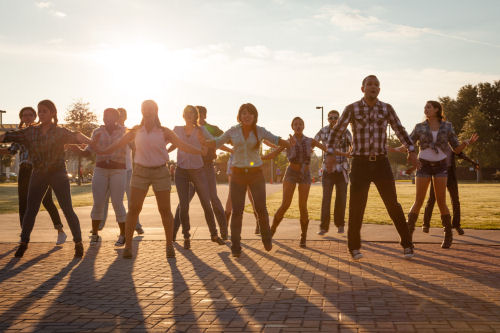 As everyone relaxed, snacked on post-race goodies, and cooled-down the entertainment that had greeted them on course in the form of UCF's Glee Club and a DJ provided a backdrop to all the fun going on as everyone slowly got back to their cars and headed home to real life again. Thanks to the UCF Alumni Association for hosting the VIP party and to 4Ever Knights, a benefiting organization, for providing 75 enthusiastic volunteers.

Though the next event in the Track Shack Running Series isn't until January 25th, we hope to see you racing the roads at night in Lake Nona for the RunNona 5k coming up in November! Rest up and get ready, because everyone runs faster at night, and even faster when there is free beer and 4 Rivers BBQ at the finish line!

Track Shack Running Series standings are ready for viewing at http://trackshack.com/events/grand-prix/view_gpresults.php

Use Facebook to Leave a Comment
- We'd love to hear from you.