Hunter Vision Watermelon 5k on July 4th, 2013 – It's not too hot to run!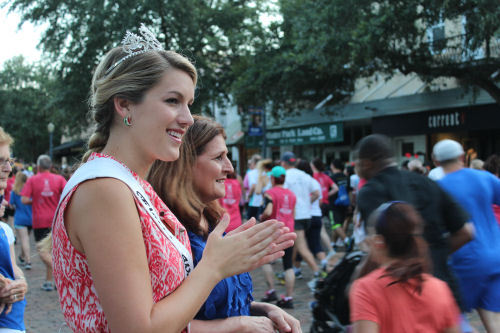 Florida's Watermelon Queen Brandi Harrison along with over 3500 runners and walkers eagerly came to Winter Park for the 22nd Annual Hunter Vision Watermelon 5k to celebrate Independence Day and enjoy ice-cold watermelon after the 3.1 mile run!
Central Park in downtown Winter Park provided a spectacular setting for this holiday race, which was complete with a Watermelon Eating Contest and free kids' run.
Seth Procter was the overall champion with a time of 15:26. Ragnhild Kvarberg won the women's division in 17:20 outrunning her closest competitor by over a minute and a half.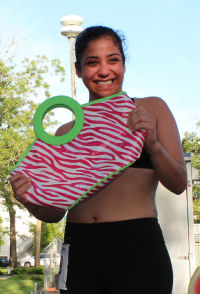 Other winners that day were Howie Harrison, of Orlando, and Afaf Awad, of Orlando, FL who defeated all other competitors in the Watermelon Eating Contest by eating the most watermelon in three minutes!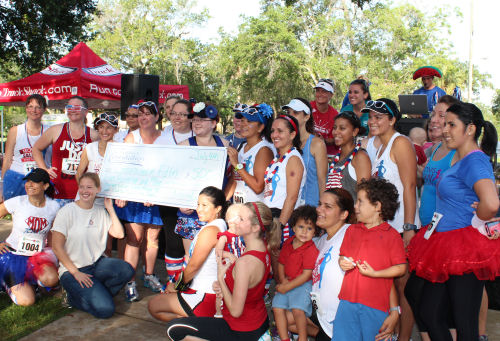 Appreciating our military service personnel has been a reoccurring theme at the Watermelon 5k and this year a team competition was introduced. Groups of runners and walkers formed teams and the largest team had a $500 donation made in their name to a charity of choice. Central Florida Chapter of Moms Run This Town had 48 participants and selected the Camaraderie Foundation to receive this donation. Camaraderie Foundation's mission is to provide healing for invisible wounds of war through counseling, emotional, and spiritual support for all branches of military service members, veterans and their families.
Jacqueline Dominguez-Mays, Master Sergeant Retired, United States Army was the lucky winner of our Military Appreciation Staycation. She received a two night stay at the Rosen Centre and SeaWorld tickets! "I enjoyed running the Watermelon 5k with my daughter Shanell Mosley and the after race festivities. Thanks for the stay-vacation! Looking forward to returning to Orlando, and perhaps running the race next year!!!"

A generous community of runners and walkers contributed over 500 non-perishable food items to the Orlando VA Medical Center's Veterans in Need Program.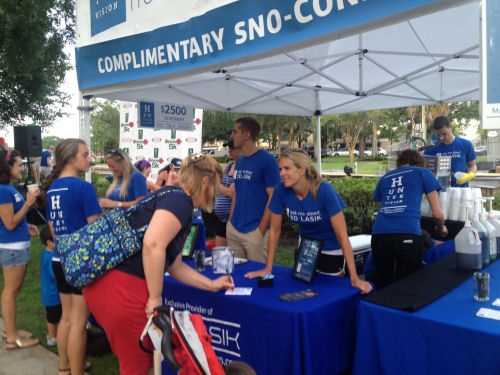 "Too hot to run on July 4th?! No way! The Watermelon 5k is the largest single race in Winter Park and runners and walkers of all ages love it because of the shady route and all the fun activities they can enjoy together on the holiday, " says Betsy Hughes, co-owner of Track Shack. "Hunter Vision, our title sponsor, makes sure that the participants and spectators stayed cool with fans and snow cones too!"
Race proceeds from the Hunter Vision Watermelon 5k benefit the Track Shack Foundation, a 501©(3) organization that provides health and fitness opportunities to Central Floridians through the funding of youth athletic programs.
Use Facebook to Leave a Comment
- We'd love to hear from you.