Track Shack Foundation Grant Report Impact Story

Photos and Story by: Perry Athanason/Quest, Inc.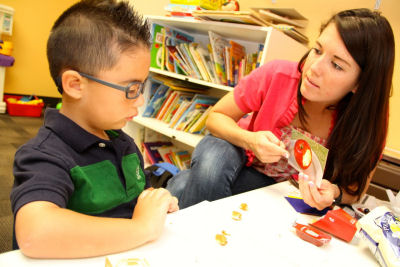 The day Ana heard the diagnosis of autism, she cried at the thought of her son's future for the first and last time…
While wiping the tears away as she left the doctor's office with her 2-year-old son, Sebastian, in tow, Ana experienced a moment of calm and clarity, and from deep inside she found the strength to vow, "my son is beautiful, and he will not be stopped by Autism!"

This was not Ana's first experience with autism. She knew a few children – children of friends and acquaintances – who were autistic. To her, autism was a severe disability that left children with the inability to talk, function or be expected to behave in public. This was a perception that would soon change when her son was born and she started to notice certain behaviors that he would (and would not) exhibit.

"He was not hitting the newborn, or toddler stage milestones. He would simply cry all the time and once he was a bit older, he was not responding or communicating with his surroundings and he would simply sit and throw tantrums for most of his waking hours."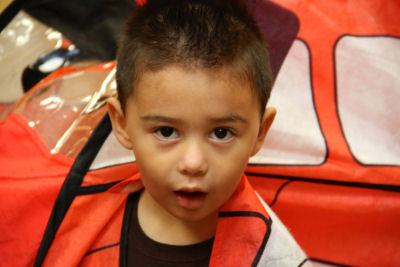 Autism not only affects the child, but the entire family as well.

"Knowing your child is hurting or frustrated, but not knowing what is hurting or frustrating him, or how to fix it, is pure torture on any parent. That the feeling of helplessness runs deep and becomes a very heavy and dark cloud over every breath you take, " said Ana.

Ana, like any concerned parent, became her child's strongest advocate toward discovering what was wrong and how to fix it. It was that love, dedication and unwillingness to give up that led her, and her son, to Quest Kids.

Quest Kids specializes in helping children with disabilities ranging from 15 months old to 18 years of age. About half of the children in the program are on the autism spectrum, while the remaining 50 percent have developmental delays, learning differences, Down syndrome, Cerebral Palsy, chromosomal abnormalities and other learning and behavior concerns.

Sebastian started therapy sessions at Quest Kids nearly two years ago. Ana admits that she contacted Quest immediately upon receiving the autism diagnosis because the doctor's office had recommended ABA Therapy as the preferred course of action and gave her several brochures…one of them was to Quest Kids.

"His progress is amazing! He is like an entirely different child than before," reported Ana. "He took a 360 degree turn under the therapy provided by Quest Kids. He uses sign language with his words, he is more sociable, he makes every effort to communicate his needs and we have been able to dramatically reduce the number of tantrums and "melt-downs" that many families with autistic children experience."

The therapists at Quest not only work with the Sebastian, but with his mother as well. This is a philosophy rooted deep in the theory and practice of ABA Therapy.

"We want the parents to learn how we work with their children," said Ansley Hodges, Director of Quest Kids & Quest Kids Academy. "The children need the repetition of therapy sessions for as many hours in the day as they can. By teaching parents the basic of Applied Behavior Analysis and Verbal Behavior, we equip them with the necessary tools to ensure their child continues to succeed. The parents can increases the amount of therapy hours the child receives by working on skills at home, which will help with some of the financial burden and maximize their child's progress.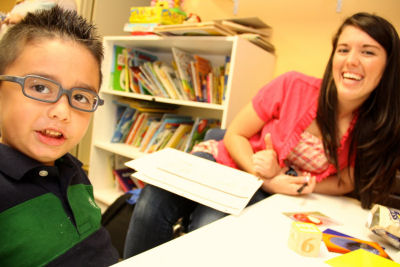 And Ana is simply thrilled at her son's progress.

"Watching Sebastian grow, initiate conversations, do things for himself and interact with the world around him indicates to me that advocating for my child, and not giving up, was the best thing I could have done for him during those moments of hopelessness," said Ana. "I want other parents who might be facing what I faced two years ago when I was told Sebastian would never talk, that I would have to do everything for him and that he would never be able to respond to me in the way that a mother expects…and wants."

"Well, I am here to say never give up on your child! Advocate for your child and do all you can to get them the therapy they need. In our case, Early Intervention and ABA Therapy made all the difference in the world and the sooner you seek help for your child, the better chance they have, and that is what parenting is all about - loving your child, guiding your child and doing all you can to give them the best life possible. Without Quest Kids, I am not sure where we would be today, " concluded Ana.

Financially, families must rely on their own resources and nonprofit agencies, like Quest, that receive funding from private foundations and corporations. Ultimately, most families are forced to accept fewer hours of therapy than their child needs or rely on special education programs at schools where teachers may not be equipped to properly teach children with autism. It is extremely difficult for teachers to effectively educate these children because they require consistent one-on-one attention and a focused, individualized education plan - nearly impossible for the already over-loaded school system.
Quest believes that every child deserves to receive the education, support and opportunities necessary to grow into a successful, independent adult. No child should be denied the right kind of learning environment based on a disability or low socio-economic status. Through the generosity of donors and grants as provided by Track Shack Foundation, Quest is happy to offer scholarship programs to families to help them achieve their child's goals.



Use Facebook to Leave a Comment
- We'd love to hear from you.