Echo Helps Launch the NEW TrackShack.com
TRACK SHACK SETS THE PACE FOR 2013 WITH REDSIGNED WEBSITE
CONGRATS to our winners for Commenting below!
            Georgette Varela - receives a gift certificate for New Balance shoes at Track Shack
            Alicia Beardsley - receives (2) Complimentary race entries to a Track Shack event
            Kelly Ward - receives (2) Complimentary race entries to a Track Shack event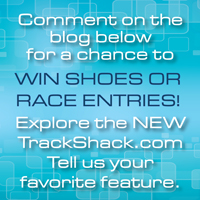 ORLANDO, FLA., – Betsy and Jon Hughes, co-owners of Track Shack, a leading local specialty running retailer, are proud to announce the launch of the new TrackShack.com.
Designed by ECHO, the redesigned website for the running/walking retailer allows visitors to easily see that Track Shack is a physical location and the door is open to come in and explore. With over 30,000 unique visitors per month to TrackShack.com, the new look was developed with veterans and newbies in mind. 
"We are thrilled to launch our new website that will accommodate everyone from our longtime runners to those who are just starting on the road to a healthy lifestyle," said co-owner Betsy Hughes. "With features such as the interactive blog that allow for community comments, and the enhanced retail section showcasing the latest in-store shoes, apparel, gadgets and nutrition, TrackShack.com is a great resource for runners and walkers alike.  Our new website truly enhances our ability to serve our whole community." 
Those new to Track Shack and the sport of running and walking will appreciate the videos, testimonials, the variety of blog content and the ease  of finding a training group or community fun run/walk.  Track Shack's long-time customers will continue to enjoy searchable results history from races as far back as 2001, plus more images of the latest in gear and gadgets, and seven local running routes.  All can enjoy the updated event listing features that filter specific types of events, such as: kids only, store events or regional events in one easy to view column.
Use Facebook to Leave a Comment
- We'd love to hear from you.