Thousands of runners, walkers expected to flood the streets of Downtown for 36th Annual OUC Orlando Half Marathon this December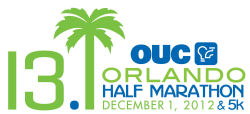 Orlando, FL – More than 4,500 runners and walkers of all ages are expected to hit the streets in downtown Orlando on Saturday, December 1, 2012 for the 36th running of the OUC Orlando Half Marathon and 5K (formerly the OUC Half Marathon). It's Orlando's only half marathon, and hometown utility OUC-The Reliable One has been supplying runners with race day water from eight hydrants along the 13.1 mile route as the title sponsor since 1999. For more information, run to http://www.OrlandoHalf Marathon.com
The "Fun Beyond the Run" will feature a stunning half marathon finishers' medal, more than 200 enthusiastic volunteers and live on-course entertainment will make this well-established race "beginner'' friendly and attractive to new runners. Local favorite cover band Derek and the Slammers will delight the finishers at the post-race party at Lake Eola.
To attract developing and regional-class athletes, a $2,500 prize purse will be added to incentivize athletes for the 2012 race. This year's OUC Orlando Half Marathon will be the home of the USA Track and Field State Half Marathon Championship, which will recognize the top three male and female finishers as the state champions at the half marathon distance.
"We're thrilled to have OUC as a hometown partner with such rich history who literally pours themselves into Orlando's premier half marathon," says Race Director Jon Hughes. "Together with the City and our sponsors, our goal is to showcase Orlando as a big-time running city and to make this one of the biggest and best U.S. half marathons."
The OUC Orlando Half Marathon is owned and managed by Track Shack Events, a locally owned road race management firm that manages more than 25 events per year and operates a specialty running/walking store.
The beneficiary focus will be on youth health and fitness with race proceeds benefitting the Track Shack Foundation and the Florida Citrus Sports Foundation MVPs.
Track Shack Foundation is a 501©(3) organization that helps provide health and fitness opportunities to young Central Floridians through funding youth athletic programs.
Established in 1923 by a special act of the Florida Legislature, OUC—The Reliable One is the second largest municipal utility in Florida. OUC provides electric and water services to nearly 225,000 customers in Orlando, St. Cloud and parts of unincorporated Orange and Osceola counties. Visit www.ouc.com to learn more about our commitment to reliability, affordability and sustainability.
PARTICIPANT INFORMATION: Call Track Shack at 407.896.1160 for additional information or to register online, run to www.OrlandoHalfMarathon.com.
Use Facebook to Leave a Comment
- We'd love to hear from you.