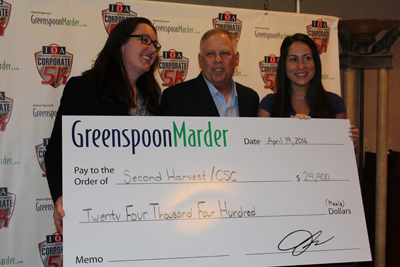 2016 IOA Corporate 5k – A Big Heart for the Community!
This year we dubbed the IOA Corporate 5k as "The Big race with a Big Heart." Let me just tell you how big!
In 2015, Orlando was named America's Best Running City so far we're living up to that title. An enthusiastic crowd of over 16,000 runners and walkers help raise $85,000 for the Track Shack Foundation so local kids can
learn to swim, learn to run, go to summer camp or compete at a higher level.
We had a goal of contributing 20,000 meals to Second Harvest Food Bank and the Christian Service Center through the 100 Meal Challenge which provides funds and food for local, needy individuals and families.
Through an outpouring of support from over 40 companies, together we crushed that goal and the final tally was 70,000 meals based upon financial donations and food drive collections.
Thank you to our Top Donors:
o Insurance Office of America (IOA)
o Greenspoon Marder
o CRU
o Jackson Therapy Partners
o Track Shack Events
"Together we're providing hope for families right in our very own community and we're doing it through great partnerships with caring people," says Sasha Hausman, Development Officer, Second Harvest Food Bank of
Central Florida.
Want to keep the good feeling going form the IOA Corporate 5k? Here are a few easy ways:
• Volunteer for a shift at Second Harvest Food Bank
• Sign up as a group to serve lunch at Christian Service Center's Daily Bread program
• Check the event calendar for upcoming community run/walk opportunities
• View and Share the IOA Corporate 5k Recap video
Please add your own ideas in the comments below!
Use Facebook to Leave a Comment
- We'd love to hear from you.