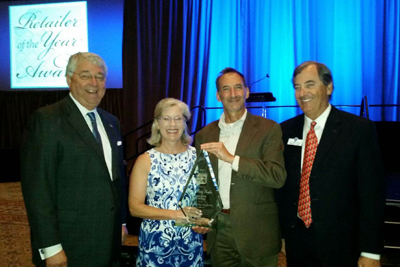 Track Shack's Jon & Betsy Hughes Named
2015 Florida Retailers of the Year
Tallahassee, FL – The Florida Retail Federation (FRF), the state's premier trade association representing retailers for over 75 years, today named Jon & Betsy Hughes, co-owners of the Track Shack in Orlando, as the 2015 Florida Retailers of the Year. They will be honored with this prestigious award during a special luncheon on June 11 at the Rosen Shingle Creek Orlando as part of the FRF's Annual Summer Meeting.
"Jon and Betsy are great representatives of what the retail industry does in our state, by not only offering high quality merchandise, but doing so with world class customer service and giving back to the community that helped them become a success," said FRF President/CEO Rick McAllister. "The retail industry is committed to making a difference in Florida, and we're proud to recognize the Hugheses for their commitment to their community, their dedication to their customers and their passion for their business."
Founded in 1977, Track Shack is a specialty running/walking store who main priority is to serve Central Florida's community of athletes and also those individuals with special footwear needs. Their goal has always been to "Keep Central Florida Fit!" Through the years, Track Shack has promoted retailing in a variety of ways including Teach Ins at many local schools and guest speaking at UCF on how their business evolved, plus training programs from beginning walking to supporting marathoners, and hosting weekly group runs from the store allowing their retail vendors to interact directly with customers.
Jon Hughes has served on several local boards including Florida Heart Group, Running USA and was President of Florida USA Track & Field. Betsy serves on the board of SheRunsRetail and Seminole State College Board of Directors of the Nursing School. Additionally, they lend assistance to local schools and various clubs and offer discounts to all area athletes.
But their biggest impact on the community has been through their Track Shack Foundation, begun in 1994, which encourages positive life choices for children through athletics. To date, the Foundation has donated more than $2.5 million to local organizations, covering expenses for track teams' uniforms and tumbling classes for youngsters at United Cerebral Palsy among other activity involvement.
"We are honored to be selected as the 2015 Florida Retailers of the Year and we thank the Florida Retail Federation for sponsoring this award and for their efforts in continuing to advance the retail industry," said Jon & Betsy Hughes. "We are extremely proud of the customer service we've provided for more than 30 years, and are even prouder of the commitment we've made to supporting our community and making it a better place to live and work."
Two other local retailers were honored as "Outstanding Retail Leaders" for their commitment to the retail industry and their community. These retailers will also be recognized at FRF's Summer Meeting in June:
Christina Brown | Roses Are Red Florist | Indiatlantic
Roses Are Red Florist is a local full service florist providing fresh cut flowers, flower arrangements, plants, floral classes and other gifts for all types of occasions, owned by Christina Brown. They are the only retail florist in their area that advertises bulk flowers and supplies for do-it-yourself purchase. Christina's community involvement includes flower donations and support to more than 20 different charities benefiting women and children in Brevard County, including the March of Dimes, Deveraux Girls Children's Home, Serene Harbor and Viera Deveraux Hospital.
Deanna Renda | Naples Soap Company | Naples
Since opening its doors in 2009, people from all over the world have become loyal users of Naples Soap Company's products for their chronic skin issues. Today, Naples Soap has seven locations in Florida and five stores in Tokyo, Japan, with wholesale operations expanding rapidly across the United States. CEO Deanna Renda's community commitment includes working with the local Junior Achievement, donating a tree for the Goodwill Festival of Trees, and providing donations to St. Matthew's House and the Shelter for Abused Women.
The Retailer of the Year award, sponsored by FRF since 1999, honors Florida retailers who blend sound business practices with commitments to their communities, customers and employees. FRF issues a statewide call for nominations, with the award open to both members and non-members of the non-profit trade association. Eligible retailers are all those who work for, own, or operate a Florida retail business that has an annual sales volume of $5 million or less. Nominations were received from communities around the state. A selection panel made up of small business owners and other retail experts ranked nominees based on their scores in several categories, including community service and business acumen.
About the Florida Retail Federation
The Florida Retail Federation is the statewide trade association representing retailers – the businesses that sell directly to consumers. Florida retailers provide one out of every five jobs in the state, pay more than $49 billion in wages annually, and collect and remit more than $20 billion in sales taxes for Florida's government each year. For more information, visit the FRF website, and follow FRF on Facebook and Twitter.
Use Facebook to Leave a Comment
- We'd love to hear from you.