Wanna Go with JetBlue

"Sometimes it's better to be lucky than fast!" Flying back into Orlando is the JetBlue Southern Destinations contest! This year the contest will run in conjunction with the OUC Orlando Half Marathon again, and JetBlue will be providing two sets of two tickets to our grand prize winners.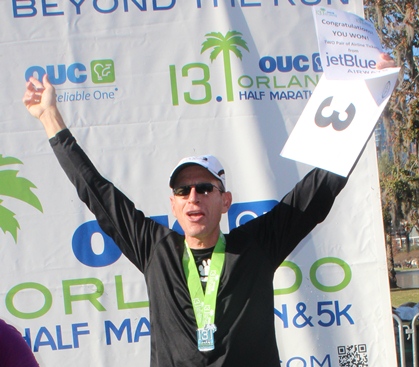 Last year's winner Natt Riefler got lucky and fast in winning one of the two ticket grand prizes. Having his two tickets to paradise Natt went and ripped a new marathon personal best 3:56:13 in his first sub-4 hour marathon leg in an Ironman distance triathlon last month.
Want your chance to get lucky on December 7th to top off your day of going fast around downtown Orlando? Check out the OUC Orlando Half Marathon on the Track Shack website, then run to the OUC Orlando Half Marathon's Facebook page and comment on the cover photo by telling us where you want to go on JetBlue!

Grand prize winners will be chosen and prizes handed out on race day – so don't miss out on your chance to win your vacation, get there fast, and then take it slow with JetBlue and Track Shack!


Use Facebook to Leave a Comment
- We'd love to hear from you.