2nd Annual Harvest Half Marathon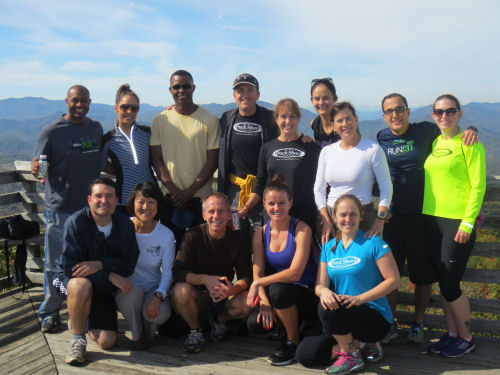 The Eastern Band of Cherokee Indians hosted the 2nd Annual Harvest Half Marathon on Saturday, October 19th. I ran the inaugural event last year and fell in love with the race. I vowed to return for its' second year and to recruit other runners as well. Thirty-some adventure hungry MarathonFest runners joined me for this unique event and experienced the beauty of the Great Smoky Mountains.
The Harvest Half Marathon is unique because it showcases the Cherokee culture. The course is all on the reservation and there are only 1 or 2 other races in the country that take place on Indian owned lands. The race opens with the Cherokee Morning Prayer Song and drumming. At mile 6 runners are greeted at the top of a significant climb with an aid station and more Native American drumming and singing. It is hauntingly beautiful and inspiring. You can feel the vibration of the drums reverberate through your whole body as you climb the hill. Runners wind through town and around Harrah's Casino and then return to the finish line. The finish line is on a track and runners are greeted by the Miss Cherokee Princesses, dressed in traditional garb, handing out finisher medals and congratulations while Harrah Casino chefs are busy serving up a savory white bean soup, veggie wraps, and sweet potato brownies! What a treat!

The Harvest Half Marathon speaks to the importance the Cherokee have placed on improving the health and fitness of the tribe. Serious health issues are all too common to the Native American. Statistics show that certain diseases and conditions affect the Native American population with more frequency than other populations. Heart disease, diabetes, and obesity are rampant. Cherokee men and women are twice as likely to suffer from obesity than any other racial or ethnic group in North Carolina. Type 2 Diabetes affects almost one quarter of the tribe; which is more than three times that of other North Carolinians. And so, a portion of the money derived from the casino is directed toward health education programs, like Cherokee Choice. Education is empowerment. They believe it is imperative for the Cherokee people to be informed and educated on these serious health issues so they may better understand the impact of these diseases and how they can take a pro-active approach towards their health.

Along with these health initiatives, the Cherokee also formed the Cherokee Runners Club. This club is open to all runners, of all abilities, who live in or near Cherokee, NC. The group trains together and travels to races together much like Track Shack's running programs. The Principal Chief of the Eastern Band of Cherokee Indians, Michell Hicks, is also a runner and a member of the Cherokee Running Club and he is dedicated to making the Harvest Half a premier running event.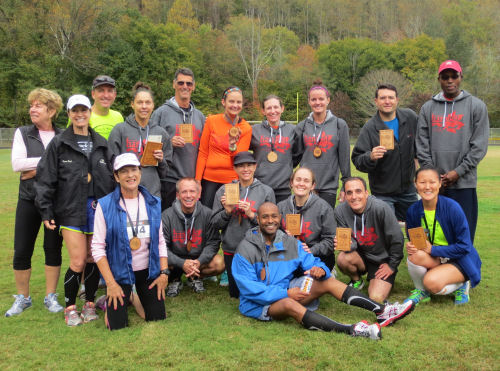 MarathonFest runners experienced a very unique event; as well as, a jam-packed, adventure filled weekend in the mountains. For those who have not traveled with me, let me just say, that on my "runcations" there is no rest for the weary. We kicked off the weekend with a 3 mile trail run on the Oconoluftee River Trail to shake out our legs after a day of travel and to breathe in that fresh mountain air! Friday morning we hiked on the Appalachian Trail up to Wesser Fire Tower for some magnificent views. Saturday morning was the Harvest Half Marathon and the weather was perfect. Cool temperatures in the upper 40's and low hanging clouds in the valley made for a great run. We followed up the race with ziplining in the Nantahala Gorge that afternoon. Leave it to MarathonFesters to turn ziplining into a competitive event! After a celebratory dinner in town on Saturday night, we returned to my cabin for a bonfire and s'mores. Sunday morning we were off for another hike on the Appalachian Trail from Newfound Gap to the Jump Off for more spectacular views at over 6000 feet. Sunday night was our last dinner together and we were all sad to see the weekend end!
Everyone enjoyed the race and the weekend so much that we are all set to return next year. I believe this event is on our race calendar, permanently! Perhaps you will join us next year!

See you on the road,
Susan Paul

Use Facebook to Leave a Comment
- We'd love to hear from you.