Cuhaci Peterson Reached New Heights at 2023 SimplyIOA Corporate 5k Presented by Key HR
We've learned so many things from the pandemic, especially how to work - and run - virtually!
This year, Team Cuhaci Peterson, a Central Florida based architectural firm with offices in four U.S. cities took their virtual SimplyIOA Corporate 5k to new heights!
Watch the video below and enjoy Project Manager Mike Nikel's virtual 5k experience from Red Rocks in Colorado!
Team Captain Chris Abbey shares his passion for the SimplyIOA Corporate 5k presented by Key HR and how they build a healthy corporate culture.
Shining the spotlight on companies who embrace a culture of workplace wellness is a priority for ThreatLocker, Team Spotlight Sponsor and Official Cybersecurity Sponsor of the SimplyIOA Corporate 5k presented by Key HR.


How many years has Cuhaci Peterson been participating? Cuhaci Peterson has been participating in Track Shack's Simply IOA Corporate 5k since at least 2011.

Team Cuhaci Peterson looks like they have a blast at the event. Can you recall any special memories from a particular year? In 2021, CP was recognized for having one of the largest teams. It was especially meaningful because it was the first in-person event after the pandemic. That same year our Philly Team participated in the virtual and got lost in the woods doing a trail run. Luckily, they eventually found their way out and capped off their adventure with a well-deserved pizza.

"My first year in 2011 I ran the event, then I doubled-back to my girlfriend who was a walker so we could finish together. She never runs and is such a slow walker (we were just past mile 2) that we were getting passed by a guy on crutches. She said it does not count because he was not in the event, not tired from already doing at least two miles, etc. That was until he turned enough to allow us to see his bib attached to his shirt. At that point our crowd of walkers started laughing and I still laugh about that to this day. And yes, we are still together," said Team Captain Chris Abbey.

How do you keep the workplace wellness culture a priority when workers are remote and sometimes in different cities?
• Virtual cooking demos for healthy lunches
• Massage therapists in each office; Wellness week - organized team walks, online meditations, healthy snacks
• Events like the corporate 5k, Tour de Cure
• Yoga in the office and virtually on Teams
"We always make sure we try to find ways to have remote workers/offices able to engage by having virtual meetings, having captains and "cheerleaders" in all the offices, and work to find those teammates that have energetic and infectious personalities that engage the team," said Team Captain Chris Abbey.

What's the best part of working at Cuhaci Peterson?
"We have a team that is literally a melting pot of personalities, nationalities, experience levels, and passions for everything. This is our "chicken soup" that will fix any issue, allow us to come together to solve problems, to find creative ways to give back to our communities that support us, and to give to each other," said Team Captain Chris Abbey.

Tell us about CP Gives?
"CP Gives is our internal organization where the team can come together and make changes in our communities from power of strength in numbers that is reinforced by a passion to help improve lives," said Team Captain Chris Abbey.

What would you like other companies to know about CP? Cuhaci Peterson was founded in 1978 and like Track Shack our roots in the Central Florida community go way back. We are a firm of architects, designers, engineers, and staff focused on our clients, our community and the lives we influence.


About ThreatLocker, the Team Spotlight Sponsor

From our Maitland headquarters, our Cyber Heroes protect your business from ransomware with a suite of cloud-based zero trust tools. With ThreatLocker, you can easily manage the applications you trust and control data access for everything you don't.
To be featured in the click HERE to fill out the form >>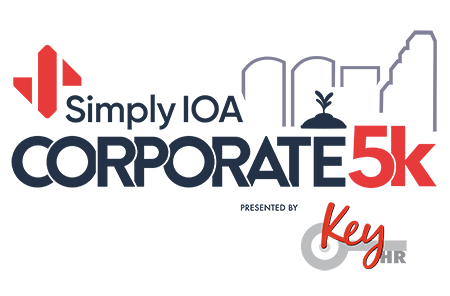 About SimplyIOA Corporate 5k presented by Key HR
Held exclusively for Florida's corporate community; businesses and non-profit organizations form teams and participate in the SimplyIOA Corporate 5k presented by Key HR for camaraderie, friendly competition and celebrating with co-workers.
Use Facebook to Leave a Comment
- We'd love to hear from you.