Team Spotlight: Net Conversion
Net Conversion is an Orlando-based internet strategy firm that prides itself on having a unique company culture. Consistently ranked among the Best Places to Work by the Orlando Business Journal, the team shared a little about their company culture and how they use virtual challenges to stay connected and moving!
Q: How many years has Net Conversion been participating in the IOA Corporate 5k?
A: 5 years
Q: What does Net Conversion do?
A: Provide Paid Media, SEO, Analytics, and Data Science services.
Q: How has your company been able to stay motivated to wellness during the pandemic?
A: We started an online challenge in early March through our partner YMCA of Central Florida's app where employees compete in scoring the most Move points. Move points are anything that gets you moving, so walking, running, weightlifting, yoga, a pickup game of basketball, and classes at the Y now that they're open. This has come in handy as we've been apart, as everyone can see how each other is doing and encourage them to keep up.
Q: What is important to your company right now?
A: Keeping our culture strong and team healthy and happy.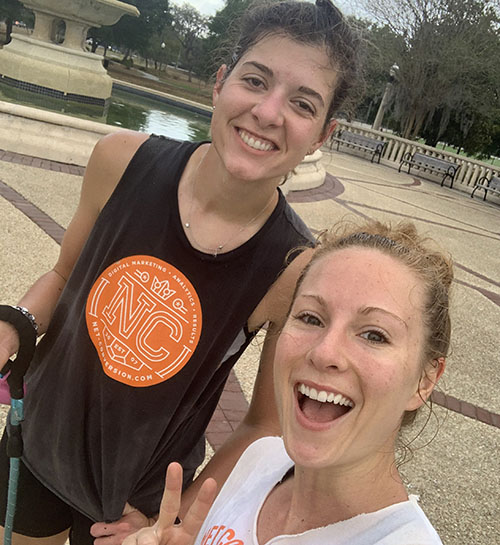 Q: How do you and your team feel about the IOA Corporate 5k going virtual?
A:
We understand that safety is the top priority for our community and that some events aren't ready to be in-person yet. We think the race going virtual is actually going to make our team more competitive - we have several highly (HIGHLY) competitive analysts. In years past, people could say that they were stuck behind a group of other runners and that slowed them down etc., but now there is no room for excuses!
Q: What is your experience with virtual events?
A: We've become very accustomed to virtual Happy Hours with trivia, Pictionary, video games, and even hiring performers to guest star in our Google Meets!
About SESCO Lighting
With nearly 300 employees, SESCO provides complete lighting solutions to customers throughout the Southeast, as well as Worldwide through our SESCO Global Division. As an employee-owned company, where our employees own 100% of the company's stock through an ESOP, we hold ourselves to the highest standards. "Employee longevity and tenure are a great testament to our employee's quality of life. We stay mindful of keeping a vibrant and open company culture to retain great people on our team." -SESCO LIGHTING
About IOA Corporate 5k
Held exclusively for Florida's corporate community; businesses and non-profit organizations form teams and participate in the IOA Corporate 5k for camaraderie, friendly competition and celebrating with co-workers.

Want to be featured?
Share how you and your company are preparing for the virtual 5k!
Are you interested in being featured for a Team Spotlight?
Email info@trackshack.com.
Visit
IOA Corporate 5k's
webpage for more info or to create a team!
Use Facebook to Leave a Comment
- We'd love to hear from you.