Staff Shoe Review – Nike Air Zoom Vomero 14
By Shane Huckeba, Shoe Expert at Track Shack and Former Collegiate Athlete
Welcome, welcome to another top notch running shoe review! Now this one is going to be a lot more running specific and performance oriented so get those socks on and watches ready because things are about to get fast.
This time around we have the Nike Vomero 14. As I have mentioned before in my blogs (and as a full disclosure for this blog) I have been running in Nike shoes for the past decade. For whatever reason, their shoes just work for me.
Now in the running world there are two schools of thought on Nike as a brand; one side believes Nike to be the industry definer and the other find Nike to be one big gimmick after another. The way I see it is there are a lot of "gimmick" shoes from Nike, but they do have a select few running shoes that are as high quality as anything you'll see from any other brand. The Vomero series is one of those quality shoes, and the 14 is promising to be the best one yet.
So let's "run" through the highlights of the newest iteration of Nike's high cushion category. The update to this shoe you'll notice right off the bat is the aesthetic overhaul. The Vomero 13 looks almost clunky compared to this new iteration.
Nike has streamlined this shoe in both weight and appearance. For me personally, this is a great update, but as we all know looks aren't everything if the shoe doesn't fit. Another one of the bigger changes to the shoe is the use of Nike's new React foam in the midsole. This gives the sensation of a more spring-like toe off and is probably one of the more noticeable changes in the shoe. In conjunction with the React foam they have also run a Zoom Air unit throughout the entire midsole to give you that softness one expects from a high cushion shoe but it is quite bouncy. The outsole of the Vomero has been completely redesigned as well. The lugs on the bottom have been given quite a bit more "grit" compared to previous models which bodes well for the traction you'll get from the shoe. The guidance line on the bottom of the shoe is more like a canyon this serves to keep the Vomero flexible and reduce the weight, but it is probably the one thing keeping me from loving the shoe.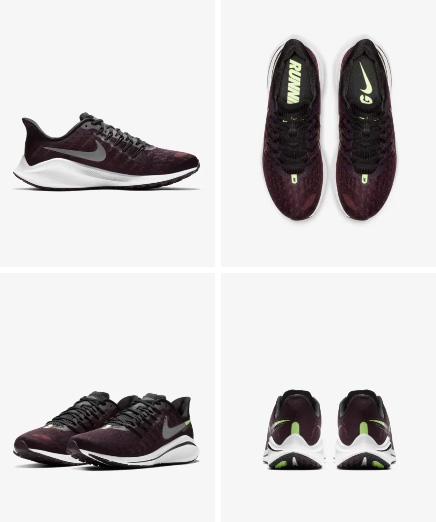 Let's talk about the fit, like most of Nike's styles, they run a little narrow and are a little shallow in the toe box. They fit pretty true to size, but as always I always recommend trying on the shoes . The weight for the men's shoe is 9.4oz and for the women it's about 7.8oz, which is actually very lightweight for a high cushion shoe.
So what is my overall take of this shoe? To be quite frank, it's really hard for me not to go out and buy this shoe now. If you like a responsive yet cushioned shoe and a streamlined fit, this is a exceptional shoe. Now that being said there are a couple things that I do not like about this shoe and I touched on one of them already. One, the guidance line on the bottom of the shoe is intense. Sometimes I could almost notice the lack of material in it which can affect the comfort of the shoe. Two, the padded heel collar is very snug. Normally not a bad thing because it can really cut down of heel slippage for those who have a problem with that. The snugness is not inherently bad but it squeezes me a little bit.
All of that being said, I do recommend giving this shoe a try and if you have ever wanted to dip your little toes into the Nike pool it is a great model to try out. If you are a fan of the Nike Pegasus, this is definitely a shoe to try. You may not walk out with a typical size for yourself, but remember to be open-minded when it comes to shoe sizes. If you are concerned about that at all you can always stop by at Track Shack and we can do the legwork for you (pun intended).
Share your experience with the Nike Vomero!
Track Shack is a specialty running/walking store that has been serving the footwear needs of Central Florida's fitness enthusiasts since 1977. Our experienced and knowledgeable staff takes each person through a custom
fitting process. Shoes and feet are our business but people are our specialty! Now that you're here, walk through our user-friendly website and welcome to the Track Shack family!
Use Facebook to Leave a Comment
- We'd love to hear from you.