Insurance Office of America Extends Five Year Title Sponsorship of IOA Corporate 5k
Orlando, FL – Longwood based insurance agency Insurance Office of America (IOA) continues to champion the cause of corporate wellness by signing a five year, five figure sponsorship of the IOA Corporate 5k, Florida's largest 3.1 mile run/walk.
IOA has been affiliated with the event since 1995 and a sponsor since 2000. In 2012, IOA gained title sponsorship and will retain that position through 2019.
IOA Corporate 5k celebrated its 20th anniversary in 2014 as Orlando's largest 5k run/walk and office party that is held exclusively for Florida's corporate community. Businesses and non-profit organizations form teams and participate in the IOA Corporate 5k for camaraderie, friendly competition and celebrating with co-workers. The participating population is made up of over 18,000 runners and walkers from more than 790 companies and lead by over 200 CEOs.
"We're thrilled to have been involved with this event since 1995. Our employees and clients look forward to running and walking each year. We stay involved because we see firsthand the life-changing affects that come when your associates improve their health. This will be our 15th year as a sponsor and we feel there is still more work to do to promote the benefits of healthy workplaces," says Danny Anderson, IOA Regional President.
"The Corporate 5k has grown from 2000 people to close to 20,000 runners and walkers. IOA has demonstrated true leadership in the area of corporate fitness by engaging their employees and clients and rewarding Central Florida's business community by sponsoring this event year after year, " says Jon Hughes, Race Director and co-owner of Track Shack. "This event, along with the national running industry, has proven to be re-cession proof. Even while the economy slowed, the IOA Corporate 5k grew to be the state's largest 5k."
The 21st Annual IOA Corporate 5k will be Thursday, April 16, 2015 at Lake Eola in downtown Orlando. For more information run to www.Corporate5k.com.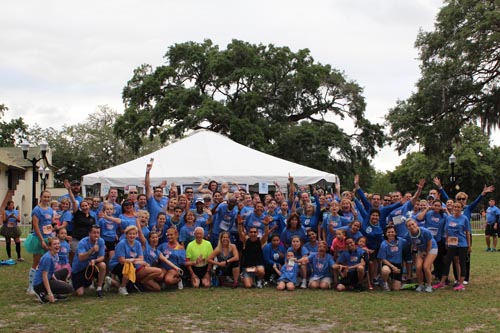 Insurance Office of America (IOA) is a full-service insurance agency founded in 1988 and is one of the fastest-growing independent agencies in the U.S. IOA is currently the eleventh-largest privately-held insurance agency in the US by Insurance Journal and is the twenty-seventh largest American broker according to Business Insurance magazine. The IOA headquarters is located north of Orlando in Longwood, Florida. IOA has more than fifty branch offices across the United States and an international office in London, UK. With more than one thousand associates, IOA specializes in providing solutions for many industries of business. We invite you to engage our people, discover the difference, grow your business and experience a service you never want to leave. For more information about Insurance Office of America call (800) 243-6899 or www.ioausa.com
Use Facebook to Leave a Comment
- We'd love to hear from you.